R01 Franciacorta – Race Preview
(May 12, 2011) For the third year in a row, Prema Powerteam is ready to line up for the Italian F3 Championship. The 2011 season is set to start this weekend at Franciacorta, with the team directed by Angelo Rosin fielding three Fiat-powered Dallaras for experienced Andrea Roda and rookies Michael Lewis and Raffaele Marciello.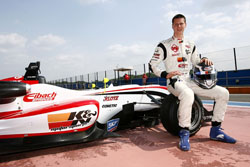 While Roda is ready to move on to the next step after his maiden season in 2010, Lewis is coming from F.BMW with high hopes. Marciello entered the 2010 F.ACI-CSAI Abarth and is currently part of Ferrari's Driver Academy. Prema is looking forward to the first round with confidence, as all the tests completed on other race tracks provided a really positive feedback.
The weekend's scheduled will be starting on Friday, May 13, with the running of the first 30-minute practice session at 4:30 p.m., followed by the second one at 10:50 a.m. on Saturday. Qualifying will take place shortly after, at 3:00 p.m., with the results setting the grid for race 1, scheduled for Sunday morning at 10:00 a.m.
Race 2 will see green lights go on at 2:00 p.m., with the grid set by qualifying except for the top-8 positions, which will be reversed.
The Italian Formula 3 championship will be broadcast live on TV in Italy, with coverage by free-to-air DTT and satellite network RaiSport 2.
René Rosin – Team Manager:
"We're starting our new Italian adventure by lining up an experienced driver alongside two rookies, but that won't prevent us from fighting at the top. Roda, Lewis and Marciello followed an extensive testing program this winter, putting a lot of kilometers behind. They had all the time they needed to get used to their Dallara race car and to the series' venues. It'll be a tough season, with some powerful opposition, but our drivers showed they have all the right skills to start battling for the top spots right from the first race."