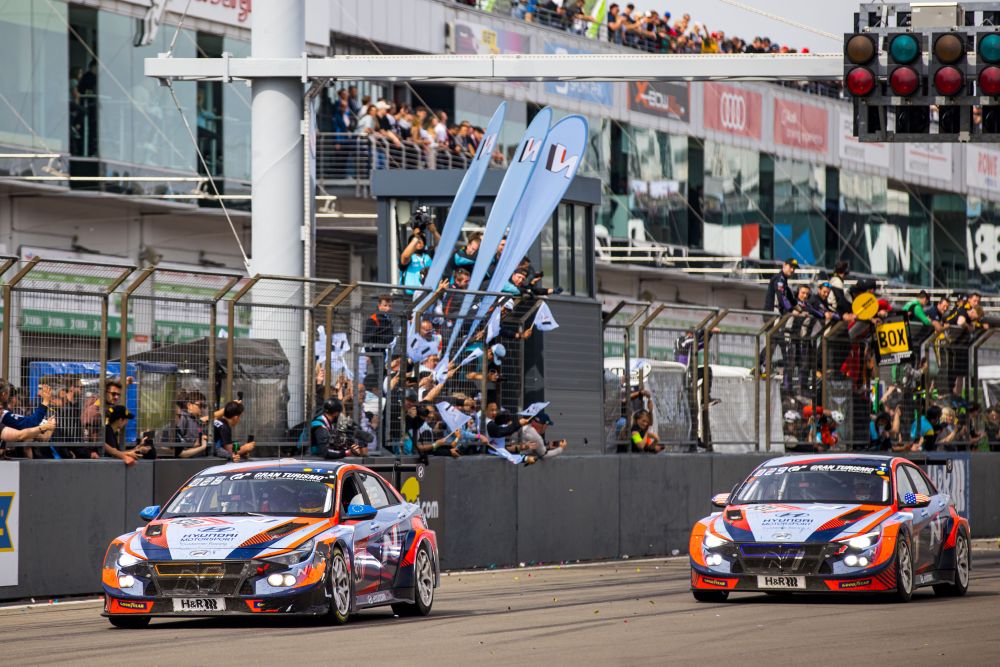 Hyundai Motorsport GmbH and Hyundai Motorsport Global with Hyundai Motor America Finish First and Second in their class at the Allegemeiner Deutscher Automobile Club (ADAC) TotalEnergies 24h Nürburgring
Taylor Hagler, Michael Lewis, Mason Filippi and Harry Gottsacker Secure a Second-Place Finish in Hyundai USA's First Appearance at the Iconic 24-Hour Race
The Reliability of the No. 831 Elantra N TCR Shines as It Survives the 24-Hour Race
Hyundai Motor America Six-Trip Journey to The Nürburgring Concludes with Great Success
Hyundai finishes the 51st ADAC TotalEnergies 24h Nürburgring with a win and a second-place finish around one of the most demanding racing circuits in the world. The driver combination of Mikel Azcona, Marc Basseng and Manuel Lauck successfully defended their title from 2022, completing two more laps of the 25-kilometer track than a year ago. The Bryan Herta Autosport (BHA) drivers of Taylor Hagler, Michael Lewis, Mason Filippi and Harry Gottsacker took on one of their greatest challenges to successfully bring the No. 831 Elantra N TCR to a second-place finish.
This was the sixth visit to the 14.91-mile Nürburgring circuit in two months for the four BHA drivers who have been simultaneously competing and winning in the IMSA Michelin Pilot Challenge (IMPC). The Hyundai Motor America Team partnered with veteran and this year's Nürburgring 24 Hours winners, Target Competition, for the Nürburgring Endurance Series races and qualifiers weekend in preparation for the 24-hour main event.
With over 200,000 fans and 136 car entrants the 24h Nürburgring was an entirely new experience for Hyundai Motor America which brought incredible learnings for the team after starting on the pole position and running in the top-three in class for the duration of the 24-hour race. They finished the day 29th overall and second in the TCR class.
Bryan Herta Autosport, the current IMPC Championship leaders, will now shift their focus to the next event on the IMSA Michelin Pilot Challenge race at Watkins Glen International on Friday, June 23. Green flag for the Watkins Glen International 120 will wave at 3:45 p.m. ET and can be streamed live on Peacock.
Hyundai Team USA Driver Quotes
#831 Elantra N TCR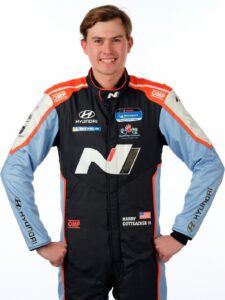 Harry Gottsacker IV: "What an experience. I ended up driving a lot during the night, more than 300 miles and wow, that incredible. Definitely a mental challenge for sure, I can't really put it into words. So much has gone into this effort over the past three months from the teams, Hyundai and the drivers. I am very thankful to everyone. We had a really smooth race, just ticked our goals one by one and I am very happy with our result."
---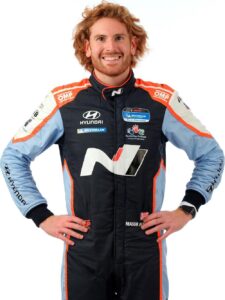 Mason Filippi: "The car was so strong all race long. I finished up with a double stint in the early afternoon, with just an hour to go and It was getting crazy out there. With the clock winding down, the aggression changed for sure, but it was a blast, we ran strong in second and just focused on our execution. Here it's different….with every turn so different and so many over the 12 + miles, you have to approach your focus a little differently than the circuits were used to. This has been the best experience of my life, thank you Hyundai."
---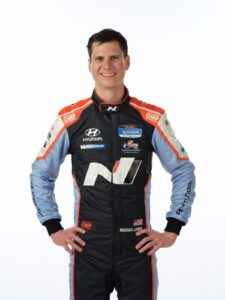 Michael Lewis: "It's going to be a while before I come down from this experience. We ran a great race. My co-drivers were awesome, we learned something every stint and made the car better and kept it strong over the 24 hours. Team Target and the BHA guys were amazing. To get to race and succeed here at Nurburgring in the presence of 235,000 fans an so many people from Hyundai who are influential to the sucess of this motorsports program and my career, is really special, thank you to everyone."
---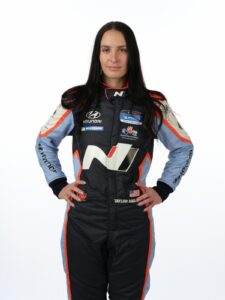 Taylor Hagler: "It was my first 24-Hour race and it was a great experience. I was definitely feeling the challenges of a 24 in the early morning. Without much sleep and the anticipation, but when I got back in the car for my morning stint, I never wanted it to end. I am ready to go another 24 hours, I had a lot of fun in the car out there. This experience has helped me so much with developing my racecraft, on and off the track. From trying to learn a beast like Nurburgring to learning the ins and outs of a new team where we are the foreigners. It's been great. My nerves were high on Saturday, looking at my woop band before I got in the car, my heartrate was 125. By Sunday morning, so many GT3 cars had fallen off, that I had a blast and my nerves were gone. Huge thanks to Hyundai and everyone at Target Competition for their support in this unforgettable experience."