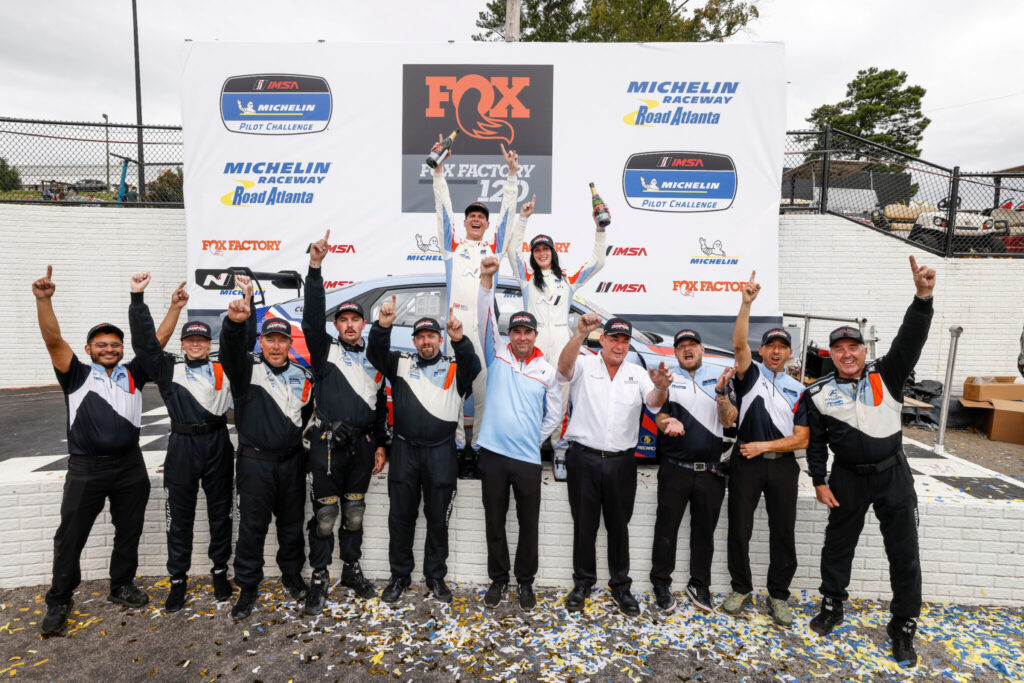 By Jeff Olson
After some anxious moments at the start of the race, Taylor Hagler and Michael Lewis recovered to create some historic moments Friday at Michelin Raceway.
Hagler and Lewis secured another championship in the Touring Car (TCR) class of the Michelin Pilot Challenge by finishing third in the Fox Factory 120. The championship was Hagler's second in succession, the first time a woman has won two championships in Michelin Pilot Challenge history.
It also was Lewis' third championship, the first time a driver has won three TCR titles, and the fourth driver and team by Bryan Herta Autosport with Curb-Agajanian.
Only one other woman, Christina Nielsen, has won two championships in IMSA history. Nielsen won Grand Touring Daytona (GTD) crowns in the IMSA WeatherTech SportsCar Championship in 2016 and 2017.
Hagler and Lewis came into the race with a 100-point lead over the No. 5 KMW Motorsports with TMR Engineering Alfa Romeo Giulietta Veloce TCR driven by Roy Block and Tim Lewis.
"We knew it was going to be a fight to the death," Hagler said. "We had to finish in a certain position. There was a lot of pressure and a lot of stress. There was a lot more that needed to be done."
They got it done, sharing the spotlight with a rousing victory by Karl Wittmer, who outraced Stephen Simpson to the stripe by 0.420 seconds. Lewis finished 0.591 seconds behind Wittmer.
Rd Plm 22 724 2022 09 30
Wittmer waited until 13 minutes remained in the two-hour race before pushing hard. In retrospect, he said he pressed too early and battled worn tires at the end of the race.
"I miscalculated that a little bit and burned my front tires off," Wittmer said. "I knew I had to manage it. It was a question of when. I miscalculated it a little bit, but I got away with it."
Shortly after the start of the race, Hagler brought the No. 1 BHA Hyundai Elantra N TCR to the pits after contact, but she was immediately sent back on track in 12th place as Block advanced to fourth place, putting the championship for the No. 1 car in jeopardy.
But Hagler didn't panic.
"It was a little bit of a crazy start to the race, and then we kind of settled in," Hagler said. "My engineer was really good about telling me, 'Head down, your times are really good, we're doing what we can, just focus on your job.' That calmed me down quite a bit and I was able to focus on pushing the times and not going a lap down."
Minutes after the No. 1's aborted pit stop, Block spun after contact with Thomas Collingwood in the No. 83 BGB Motorsports Porsche 718 GT4 RS CS. The ensuing pit stop to repair damage to the No. 5 car dropped Block to 12th – one position behind Hagler – setting the stage for the championship clinching finish. After the driver change, Michael Lewis raced the No. 1 car back to a podium finish that earlier seemed unlikely.
The early contact actually helped the No. 1 car, Lewis said.
"For whatever reason, the car after the incident was so good," Lewis said. "I was really good on the long run and could save my tires and corner the right-handers so well toward the end to push for a podium."
Wittmer held on at the end to claim victory with Victor Gonzalez in the No. 99 Victor Gonzalez Racing Team Honda Civic FK7 TCR over Simpson in the No. 54 Michael Johnson Racing with Bryan Herta Autosport Hyundai Elantra N TCR.
"It was a lot closer than I expected," Wittmer said.