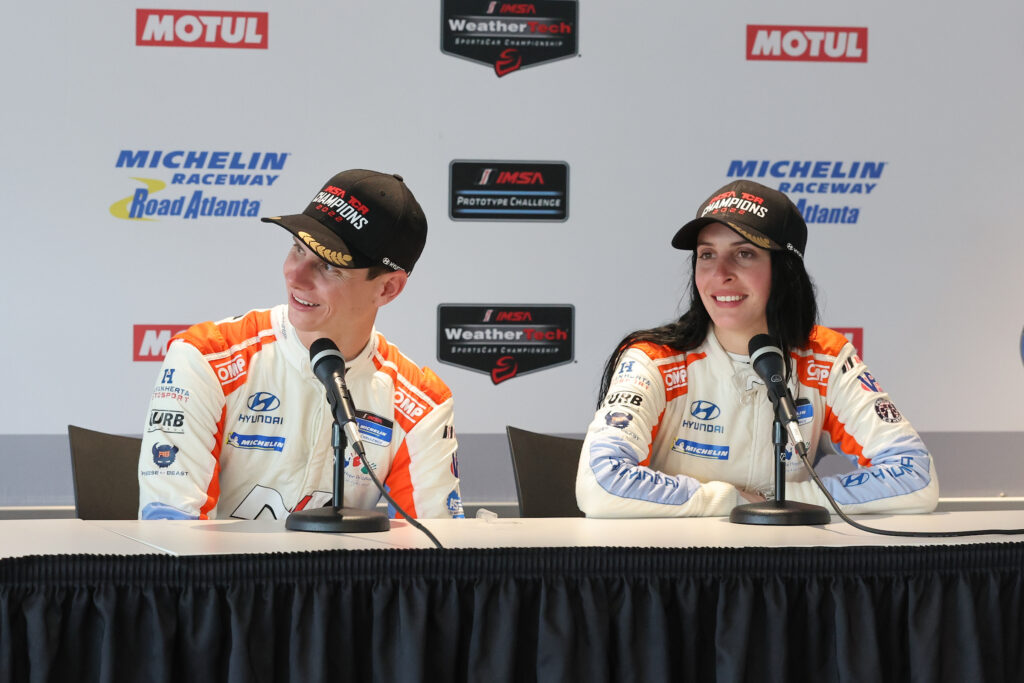 Four-time IMSA Michelin Pilot Challenge (IMPC) Champions, Bryan Herta Autosport with Curb Agajanian (BHA) will debut two new driver pairings and a new technical director when the 2023 IMPC season kicks off with the Roar Before the Rolex 24 next week at Daytona International Raceway.
Continuing their winning pedigree with Hyundai Motor America, BHA will contest three Hyundai Elantra N TCR cars, the #1, #33 and #98 led by veteran Team Manager, Phil Howard.
Seeking their third straight Drivers Championship, Taylor Hagler and Michael Lewis will drive the #1 Hyundai Elantra N TCR. Hagler became the first woman to win the TCR championship in North America with her maiden title in 2021 before doubling down on her record with another title in 2022. Lewis will pursue his fourth TCR title in 2023, another series record. Lewis is one of three TCR drivers in the world to have won three titles in the same championship.
New for 2023, Harry Gottsacker IV will pair with Robert Wickens to co-drive the #33 Hyundai Elantra N TCR. Gottsacker holds the series record for pole positions (6) and has won races in each of the last four seasons while racing for BHA. One of the most recognized stories in motorsports in 2022 was Robert Wickens' very successful return to racing. Wickens made his driving debut using hand controls at the 4-hour season opener at Daytona, which resulted in a podium finish. He went on to score a pole position and two victories in his rookie season of TCR competition. Wickens, a former Formula One reserve driver and veteran of DTM and INDYCAR, now drives with hand controls due to a spinal cord injury while racing in INDYCAR in 2018.
Accomplished Hyundai drivers Mason Filippi and Mark Wilkins will pair for the first time to drive the #98 Hyundai Elantra N TCR. Entering his fifth TCR season driving under the Hyundai banner, Filippi is a four-time TCR race winner and scored two pole positions and two podium finishes in 2022. A veteran of the Hyundai/BHA partnership since its inception, 2019 Champion Mark Wilkins seeks his second title. Wilkins has eight TCR victories, including two last season while co-driving with fellow Canadian Robert Wickens.
Additional changes to the BHA line-up includes the promotion of Kyle Compton to Technical Director. Compton started as an intern with BHA in 2016 and has since engineered two championship winning efforts, his first with Ryan Norman and Gabby Chaves in 2020 and again engineering Taylor Hagler and Michael Lewis to their first title as co-drivers in 2021.
Since entering their immensely successful Sports Car partnership in 2018, BHA and Hyundai have won five series titles, including four consecutive team and driver championships, three consecutive manufacturer's titles (2020, 2021, 2022) and 19 race wins together in IMSA's Michelin Pilot Challenge. BHA is also the U.S. sales agent and part support representative of Hyundai TCR and TCA race cars for customer teams.
All 10 rounds of the 2023 IMSA Michelin Pilot Challenge will air live on NBC's Peacock. Live audio along with live timing and scoring will be available at IMSA.com. Follow BHA's social channels and the teams' website, www.bryanhertaautosport.com for updates, images, and special features.