Laguna Beach, California (September 6, 2011) — After the spectacular win by American Michael Lewis at Spa-Francorchamps last month in the Formula 3 Italia Championship series, he arrived at Adria International Raceway, in Adria, Italy, with high expectations to compete in Rounds 9 and 10 of the Formula 3 Italia Championship. Michael was familiar with the small, tight Adria circuit as he participated in two series' collective tests and recorded competitive lap times during these test sessions. However, the experience he gained did not translate to the results he expected for this race weekend.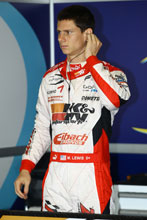 FREE PRACTICE
During the two free practice sessions on Saturday, September 3, Michael and his PREMA Powerteam mechanic and engineer worked diligently to develop a set-up for qualification. After the two sessions, the team believed that the car would be good for a strong qualification effort.
QUALIFYING
Michael's goal for the 30-minute qualifying session on Saturday, September 3, was to secure a top-three qualifying position because the Adria circuit is short with many slow corners making passing very difficult. Michael was running P-3 on the time charts on his first set of race tires. He came in for the second set of tires and his team expected that Michael would improve his position. Unfortunately, Michael misjudged his spacing between other cars on the track during the second half of the qualifying period with the new tires and was unable to improve his qualifying time while most of his fellow drivers did. Michael finished qualifying in 10th position.

ROUND 9
Michael started the first race, Round 9, on Sunday, in 10th position on the starting grid. Although he made a strong start, the conditions at Adria are not conducive to much passing, preventing Michael from making up ground. He finished 11th in Round 9.

ROUND 10
Michael again started 10th on the grid for the second race, Round 10, on Sunday, and made an excellent launch as he began passing cars early in the race. Unfortunately, he developed a clutch problem as a result of overheating the clutch at the start, which hampered his shifting ability. Michael eventually spun on the exit of a corner and hit the wall ending his day and any hopes of earning points towards the Formula 3 Italia Championship.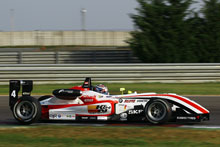 RACE SUMMARY
"As always, the PREMA Powerteam worked very hard on my behalf and this weekend at Adria was very frustrating as I was unable to score any points towards the championship," commented Michael Lewis. "Now my focus is centered on the upcoming test session at Vallelunga this week and to work hard with my PREMA team mechanic and engineer to come up with a workable plan for the Vallelunga races in two weeks. I believe in my team and my team believes in me. We can do it."
As a result of this weekend's races, Michael Lewis now stands in 6th place in the Formula 3 Italia Championship points standings and is 4th in the series' rookie championship.
The Formula 3 Italia Championship will next head to the circuit Vallelunga Piero Taruffi, near Rome, for Rounds 11 and 12, on September 17 and 18.
Michael's sponsor lineup for 2011 includes Eibach Springs, K&N Engineering, SKF, GoPro, Klotz Synthetic Lubricants, Cometic Gasket, Bell Helmets, Braille Battery, Subè Sports and Calico Coatings.