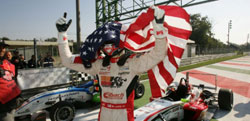 Laguna Beach, California (October 15, 2011) — Knowing that he needed a strong performance during the last two races of the 2011 Formula 3 Italia at Monza this weekend, Michael Lewis arrived ready to prove himself…and did.
Michael Lewis won today at Monza, taking his third Formula 3 Italia win of the season, and clinching the 2011 Formula 3 Italia Rookie Championship.
Michael began the weekend strong by claiming P-1 in practice on Friday, October 14. He went into Saturday's qualifying session confident, and as a result, earned the pole position for today's race.
Before the race, Michael gathered with his PREMA Powerteam engineer, Fabio Zilio, and put together a race strategy, which was effective as Michael made a terrific launch at the start of the race when the lights went out and built a two-car lead from the pack. He cleared the first chicane without any problems. Michael stayed focused and built an eight-second lead at the halfway mark as the cars behind him fought for positions. He went on to win the 30-minute plus one-lap race by 10 seconds over second-place finisher Sergio Campana, and put an exclamation point next to his effort by setting fast time in the race, as well.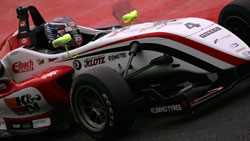 As a result of earning the F-3 Italia Rookie Championship, Michael has earned a test to drive a Ferrari Formula 1 car in early November at the Vallelunga Circuit in Italy.
Michael remains in second position in the Formula 3 Italia overall points standings, 12 points behind leader Sergio Campana. In order to overtake Sergio in the points standings, Michael must finish five positions ahead of Sergio in tomorrow's final race of the season. Only Michael and Sergio are in the running to win the series' championship.
Michael will start tomorrow's second race at Monza in 8th position, due to an invert of the top eight positions based on Saturday's qualifying order.
Michael's sponsor lineup for 2011 includes Eibach Springs, K&N Engineering, SKF, GoPro, Klotz Synthetic Lubricants, Cometic Gasket, Bell Helmets, Braille Battery, Subè Sports and Calico Coatings.

Round 15 Formula 3 Italia Series Race Results:
1. Michael Lewis, PREMA Powerteam
2. Sergio Campana, BVM Target
3. Maxime Jousse, BVM Target
4. Victor Guerin, Lucidi Motors
5. Brandon Maisano, BVM Target
6. Raffaele Marciello, PREMA Powerteam
7. Andrea Roda, PREMA Powerteam
8. Simone Iaquinta, JD Motorsport
9. Edward Liberati, Ghinzani Team
10. Federico Vecchi, CO2 Line Race
Qualifying for Round 15 of Formula 3 Italia Championship:
1. Michael Lewis, PREMA Powerteam, 1:45.410
2. Brandon Maisano, BVM Target, 1:45.582
3. Sergio Campana, BVM Target, 1:45.777
4. Maxime Jousse, BVM Target, 1:46.018
5. Edward Liberati, Ghinzani Team, 1:46.121
6. Raffaele Marciello, PREMA Powerteam, 1:46.156
7. Victor Guerin, Lucidi Motors, 1:46.250
8. Eddie Cheever, Lucidi Motors, 1:46.473
9. Andrea Roda, PREMA Powerteam, 1:46.653
10. Simone Iaquinta, JD Motorsport, 1:47.329