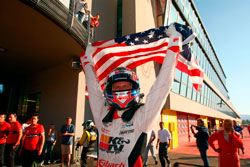 Laguna Beach, California (October 5, 2011) — MJL Racing has put together some video highlights of Round 13 of the Formula 3 Italia Championship at the Mugello Circuit, in Italy. See the spectacular pass Michael Lewis made on Edoardo Liberati to take the lead and go on for the win.
This video also features Michael being mentioned on Wind Tunnel with Dave Despain on the October 2 broadcast, and Michael is interviewed by Mugello media director Riccardo Benvenuti.
Please click here to see the four-minute video.