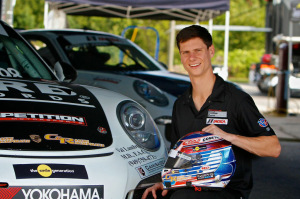 Laguna Beach, California — Michael Lewis finished third in the IMSA Porsche GT3 Cup Challenge USA by Yokohama series, an admirable result in only his first season in the American sports car series. Michael was also awarded Rookie of the Year honors for his efforts, as he was the highest finishing rookie in the championship.
Driving the No. 98 Competition Motorsports/Curb-Agajanian Porsche 911 in the series' Platinum Class, Michael finished the season with four wins, six pole positions, and nine podium appearances. His most recent podium was earned this past week at Road Atlanta, which was part of the Petit Le Mans.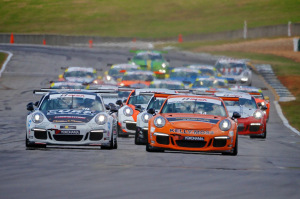 Michael entered the last two rounds of the 2014 season in second place, only one point behind Colin Thompson, the leader in the championship. In addition, a tight battle for the championship ensued when the top four drivers in the points standings were all mathematically eligible to clinch the title.
Road Atlanta qualifying took place Thursday morning, October 2. Although Michael had never previously raced on the 2.54-mile track in Braselton, Georgia, his team gave him a fast car beginning with Wednesday's practice, and he was able to finish the qualifying session on Thursday with a second-place starting position for Thursday afternoon's Round 15 and Friday morning's Round 16. This outside starting position would prove beneficial to Michael for Thursday afternoon's race, but detrimental for Friday morning's event.
Race 1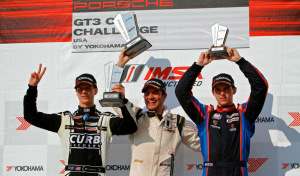 Under sunny skies, Michael found a clear view from his second-place starting spot into the first corner of Road Atlanta. When the race started, he immediately challenged the pole winner, Colin Thompson, for position as they reached the first turn. Michael made an impressive pass into the first corner and took the lead in commanding fashion. The Laguna Beach, California, native then began to open up a gap on the field and set consistently fast laps throughout the 45-minute sprint race. Michael held a wide lead over second position until three laps remaining in the race when he encountered heavy lapped traffic. As a result, Michael slowed down on the exit of Turn 10B to find an opening to pass the slower cars. But at the same time, second-place driver Angel Benitez Jr. found another opening and passed Michael. This stopped Michael's momentum and he was unable to catch Benitez in the final two laps. However, Michael finished the race in second, one position ahead of Thompson. This put Michael in the series' championship points lead by one point over Thompson, and seven points in front of Benitez.
"This was a really great race for the No. 98 Competition Motorsports/Curb-Agajanian team," said Michael Lewis. "The car was on point, and from the beginning to the end, I made no mistakes. It was good to finish ahead of Colin Thompson and secure the points lead, and the team and I did this by executing our plan very well. We finished where we needed, so for the championship finale in the next race, we will have every opportunity to go for it. Big congratulations as well to Angel Benitez Jr. who won. That was a lap time battle out there and it was a game to go as fast as possible, yet save the rear tires during the hot day at Road Atlanta. I am proud of my guys, and let's see what we can do in Race 2."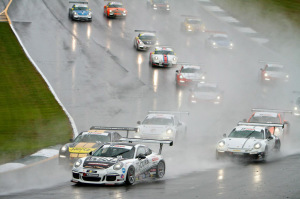 Race 2
Michael and the Competition Motorsports/Curb-Agajanian team arrived to Road Atlanta Friday morning, October 3, under heavy rain. However, this did not postpone the 8:25 a.m. start time of the last round of the 2014 IMSA Porsche GT3 Cup Challenge USA by Yokohama season. Starting in second position and with rain tires on the car, Michael, along with the 25 other drivers, took to the track behind the safety car. Before the race began, one extra pace lap took place to let the drivers acclimate to the heavy rain conditions. After two laps behind the safety car, the field approached the green flag in double file. Michael accelerated from his second-place starting position, but as he exited Turn 12 (the final corner) behind the leader, Michael lost control of the No. 98 car and started to spin. Michael's car hit the inside retaining wall located on the opposite side of pit road. This happened as the cars were approaching the green flag, and Michael's car unfortunately became stuck in the wet grass against the wall after the spin. In addition, two other drivers behind Michael spun and went off the track as well. Michael climbed out of the No. 98 Competition Motorsports/Curb-Agajanian Porsche 911 unhurt and assessed the car. Realizing that the No. 98 car could no longer be driven, Michael began the long walk to the medical car and eventually returned to pit lane. Michael's championship hopes were crushed by not completing one lap in Race 2. He retired from the race and finished P3 in the IMSA Porsche GT3 Cup Challenge USA by Yokohama championship standings.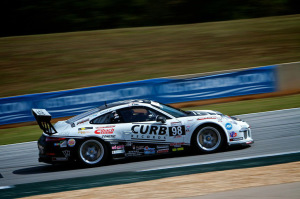 "All of my great team members, mechanics, my team owner Bob Faieta, and all of my great sponsors; those are the people and entities that I let down today," offered Michael. "Exiting that last corner onto the front straight to take the green flag, I made a mistake by touching some white paint and curbing with my left rear tire that sent me spinning into the inside wall. It was totally my fault. I accept what happened, and I have learned from this situation. Bob Faieta and his Competition Motorsports/Curb-Agajanian team put me in a position to go for the championship and that's all that I could have ever asked for. We can be proud of the season that the Curb Records, Eibach, Cometic Gasket, ASE, C&R Racing, The Smile Generation, Camisasca Automotive Manufacturing, Inc., Val Lambros M.D., F.A.C.S. sponsored No. 98 Porsche 911 had this year. Thank you to everyone who made this season a success.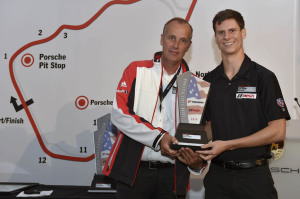 "Also, I would like to congratulate my teammate David Calvert-Jones for his double win in the Platinum Masters Class this past weekend in Road Atlanta. He was a great teammate all season long, and it was awesome to see him take victory in that class," concluded Michael.
After the conclusion of Friday's race, the annual IMSA Porsche GT3 Cup Challenge USA by Yokohama awards banquet took place in the Porsche Building, which is located at the center of the Road Atlanta circuit. All drivers and team members participating in the series attended the event, as well as IMSA series officials, and representatives from Porsche Motorsport North America and Yokohama Tire. Michael received two trophies for his 2014 race season in the series, including one for his third-place finish in the points standings and another for Rookie of the Year.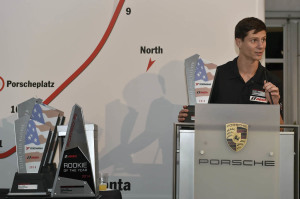 To view Michael's race video from Road Atlanta, please visit https://www.youtube.com/watch?v=kf0HYnNYlbo&list=UUCPrD4BxIppSaAy92-3JerA
The last two rounds of the series will be broadcast October 25, on American Sports Network (ASN), and will be available to watch soon after on www.imsa.com. In addition, the official IMSA YouTube channel provides coverage of each race broadcast from this season. Please visit https://www.youtube.com/playlist?list=PLypu2aI2QHnPa_m78L7DvRP4VAljFPWSg to see how Michael and the Competition Motorsports/Curb-Agajanian team performed at each event.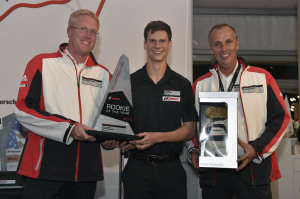 Michael Lewis' 2014 sponsor lineup includes Curb Records, Eibach, Cometic Gasket, ASE, C&R Racing, McKenna Porsche of Southern California, Ed Pink Racing Engines, Buwalda Construction, Laguna Classic Cars & Art, Camisasca Automotive Manufacturing, Inc., Mönik, Performance Racing Tech-Talk, Realatrends Real Estate Services, Inc., RFMS Racing, Mr. Paint Incorporated, Burger King, Val Lambros, M.D. F.A.C.S., Surterre Properties, Klotz Synthetics, Coast Fabrication, Racing Electronics, GoPro, Bell Helmets, Racing Goes Safer Foundation, JDR Graphics, Hobie Surf Shop Laguna Beach, and SACdesign.