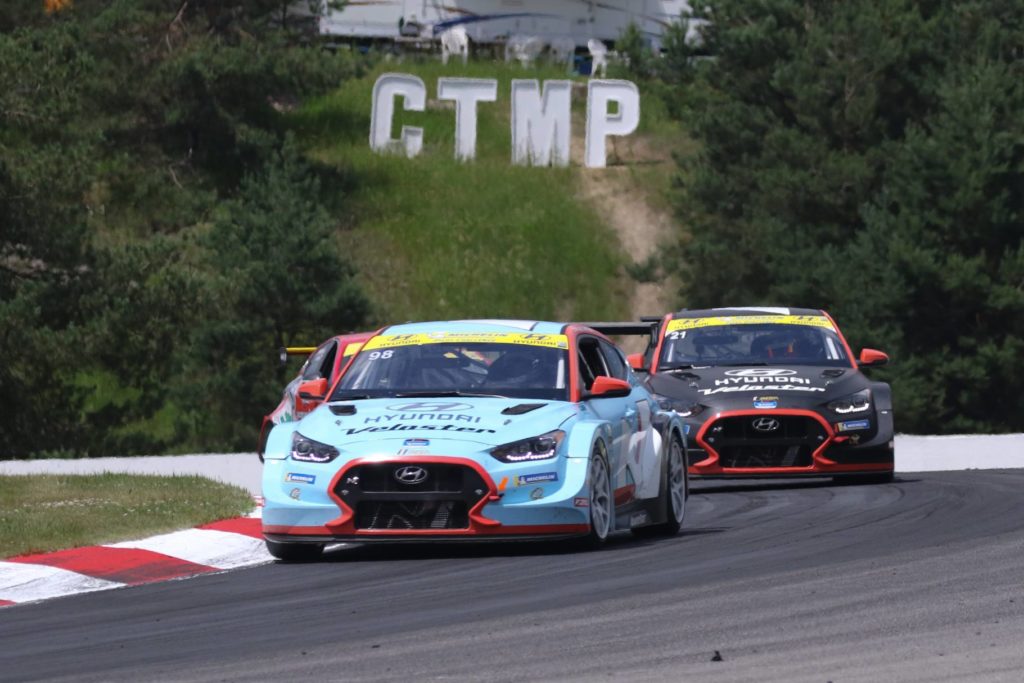 Indianapolis, IN — The Bryan Herta Autosport (BHA) Hyundai Veloster N TCRs set the pace at Watkins Glen International in Watkins Glen, New York. Michael Lewis scored the first pole position for the team and Hyundai in IMSA competition on Friday, June 28. Both team cars took turns leading the race on Saturday, June 29, despite varied conditions on the track. The skies turned dark just before the start of the green flag as thunderstorms hit the storied road course, delaying the four-hour race by one hour.
As the green flag finally fell just after 2 p.m., Michael Lewis paced the field from the pole while BHA teammate Harry Gottsacker passed multiple cars up to P2 and eventually to the front. It was a one-two lead for the BHA Veloster N TCRs.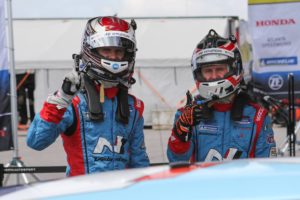 A fuel pump issue spoiled Gottsacker's chance for victory when the #21 car had to return to the garage for diagnosis. The BHA crew quickly repaired the car and the black Veloster N TCR returned to competition with Mason Filippi in the seat to finish the four-hour challenge. The team's diligence was rewarded with a top-ten finish and valuable points toward the series championship.
Michael Lewis made his final pitstop leading the race and turned the #98 car to teammate Mark Wilkins for the final two hours. Wilkins continued up front, pacing the TCR class with a five-second lead at times. The skies turned dark once again in the final hour and heavy rains gave the teams their final challenge in an already action-packed race, which was filled with accidents in the changing conditions. Wilkins masterfully led the field through the downpour and elected to take rain tires in his final pitstop. His second-place competitors took the gamble and remained on slicks. The unpredictable weather gave its final surprise when it changed from heavy rains to sunshine in just minutes. The rain tires became a burden for the #98 Veloster N TCR as the track dried rapidly, and Wilkins lost the lead after his dominant performance with less than five minutes remaining in the four-hour challenge. Earning back-to-back podium finishes, Lewis and Wilkins finished second.
Watch full coverage of Round 4 of the IMSA Michelin Pilot Challenge from Watkins Glen here:
#98 Hyundai Veloster N TCR
Started: 1st
Finished: 2nd
Michael Lewis (started): "My Hyundai Veloster N TCR was really balanced and fun to drive. My teammate Harry Gottsacker in the #21 car did a great job in the lead; he was really controlling the pace well. We were working together out there drafting and saving fuel. I was happy to turn the car over to Mark in the lead and he drove an amazing race. The championship is the big picture and our strategies and performance kept us clean out there in a race where there were a lot of guys having problems."
Mark Wilkins (finished): "Michael did a great job putting us on pole and had another great drive. I am really proud of our performance today; it was a long race and we kept it clean and controlled most of the race. At the end of the day, the tire call bit us. I was a big part of that decision…I think we needed just a few more laps of rain. It's surprising how quickly this track can dry out in areas; I think its just so abrasive…at the same time, you've got areas that puddle big time. It was a good day for us, it was a good points day, the Bryan Herta Autosport N TCR was perfect."
#21 Hyundai Veloster N TCR
Started:12th
Finished: 8th
Mason Filippi (started): "Eighth place isn't the finish we were looking for, especially after Harry's awesome drive to the lead, but once again we had a quick car. The car felt great out there and I can't wait to take the Veloster N TCR to MoSport (Canadian Tire Motorsport Park) next weekend. I've got to give a shout out to Michelin. The conditions were changing all race long, we had a little of everything today and those tires were awesome."
Harry Gottsacker (finished): "I'm really pleased with our performance in the beginning of the race. We were able to race hard; we were comfortably in the lead and Michael (Lewis) and I were working together out there to optimize the strategy for both of the Bryan Herta Autosport cars. The teams have done a great job all weekend, I am so happy they were able to get the car back out there so we can collect points. There was a lot of attrition out there so it is important to take advantage of the points opportunity. We'll be looking for the big 'W' in Canada next week for sure."
The current trend of the Hyundai Veloster N TCR cars running at the top of the speed charts continued the following weekend at Canadian Tire Motorsport Park (CTMP), in Bowmanville, Ontario, just outside Toronto.
Michael Lewis and local favorite Canadian Mark Wilkins were quickest in opening practice and qualified the #98 car on the front row for the second consecutive weekend.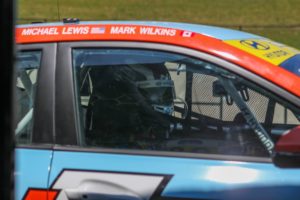 Mason Filippi qualified the #21 Hyundai Veloster N TCR third, his best start of the year. Known to be one of the most technical circuits in North America, CTMP has many dramatic elevation changes and blind apexes. Setting the race car up for this circuit can be daunting, but once again, the BHA engineers John Ward and Kyle Compton were up to the task as the Velosters were very competitive all weekend.
Michael Lewis took the green flag in the #98 and Mason Filippi started in the #21. Both drivers had a clean first "stint" and ran comfortably in the top three throughout the first half of the race. Both cars took advantage of a perfectly timed caution period to execute their first pitstop.
In the second half of the two-hour race, the team's quick pace was inconsequential when both the #98 and the #21 were struck with debilitating circumstances. A lapped TCR car held up Wilkins for several laps and then eventually hit the #98 car. As a result, the radiator was punctured and the car was forced into retirement.
"It was incredibly frustrating out there. We had another great race going and as it turned out the way the yellows fell, we would have been in contention for another victory," said Mark Wilkins.
Tune in to watch the race on NBC Sports on Tuesday, July 16 at 3 p.m. EDT/12 p.m. PDT. The team now turns their focus to Connecticut for round six of the IMSA Michelin Pilot Challenge, at Lime Rock Park on Saturday, July 20.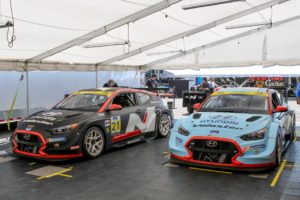 #98 Hyundai Veloster N TCR
Started: 2nd
Finished: 12th
Michael Lewis (started): "Our race was going well, and our team executed a really great strategy. Mark was driving so well, and he was fast after we did our driver change. It looked like we would cycle to first place or at least have a good fight for first at the end of everyone's stops. Unfortunately, we had a stone puncture our radiator and that was the end of a flawless race. Thank you so much to the team for enduring the trials of what a race weekend gives and especially after a back-to-back set of race weekends. I am so thankful to be on a team with passionate and dedicated racers. Our Hyundai Veloster N TCR will soon be back on the track at Lime Rock, and I am excited to go racing there to work to earn more points."
Mark Wilkins (finished): "The weekend showed a great deal of promise! Our cars were quick, and the Michelins were great; the Veloster N TCR performed well on late stint tires. A tough result to swallow for both cars. From a points perspective we are right in the mix and we have plenty of racing ahead! A massive thank you is in order to the crew. These BHA guys are the best and we'll be ready to fight for a win at Lime Rock!"
#21 Hyundai Veloster N TCR
Started: 3rd
Finished: 10th
Mason Filippi (started): "Tough day at Canadian Tire Motorsports Park but the Bryan Herta Autosport Team is strong and is able to work through anything racing throws at us in the Hyundai Veloster N TCR. I can't wait for Lime Rock Park. Heads down and time for a 1,2 finish!"
Harry Gottsacker (finished): "It was a tough race today, and probably the most physical race I've had up to this point. The pace was good, and we were in position for our first podium finish but contact at turn five ended our hopes. The goal from that point was to bring the car home and collect some points."
Stay updated with Michael Lewis and Bryan Herta Autosport online at:
Follow Michael Lewis here: Website: www.mjlracing.com Facebook: /MJLRacing Instagram: @MJLRacing Twitter: @MJLRacing_
Follow Bryan Herta Autosport here: Website: www.bryanhertaautosport.com Twitter: @bha Instagram: @bryanhertaautosport Facebook: /BryanHertaAutosport
About Bryan Herta Autosport: Founded in 2009, Bryan Herta Autosport has grown from a single car Indy-Lights team into a championship winning auto racing franchise. Led by IndyCar and Sports Car star Bryan Herta, Bryan Herta Autosport has won races in every discipline they've entered, including Indy Lights, Indy Car, Global Rally Cross, Pirelli World Challenge and IMSA. BHA rose to prominence after winning the 2011 Indianapolis 500 in what was the final race of the Centennial Era, a celebration of 100 years of racing at The Indianapolis Motor Speedway, with driver Dan Wheldon. Five years late, BHA partnered with Andretti Autosport, and defied the odds again, winning their second Indianapolis 500 with rookie driver Alexander Rossi. BHA entered the Global Rally Cross Championship in 2015 under the name Bryan Herta Rallysport, scoring multiple podiums and wins. In 2018, BHA entered the Pirelli World Challenge in partnership with Hyundai and dominated the TCR class, winning seven races with drivers #98 Michael Lewis and #99 Mark Wilkins in the Hyundai i30N TCR, securing the team and manufacturers championships in the process. For 2019, BHA continues its' successful partnership with Andretti Autosport to field the #98 U.S. Concrete Honda w/ Curb Agajanian in the IndyCar series for driver Marco Andretti. Also, in 2019, BHA takes their championship winning Hyundai TCR team to the IMSA Pilot Challenge where they contest the #98 Hyundai Veloster N TCR for Michael Lewis and Mark Wilkins and the #21 for Harry Gottsacker and Mason Filippi. Just three races into their IMSA debut, BHA won the Mid-Ohio 120 in the #98 Hyundai Veloster N TCR with Wilkins and Lewis. Bryan Herta Autosport is the U.S. sales agent and parts support representative of Hyundai TCR race cars for customer teams. For more information, visit www.BryanHertaAutosport.com.
About Hyundai Motor America: Hyundai Motor America is focused on delivering an outstanding customer experience grounded in design leadership, engineering excellence and exceptional value in every vehicle we sell. Hyundai's technology-rich product lineup of cars, SUVs and alternative-powered electric and fuel cell vehicles is backed by Hyundai Assurance—our promise to deliver peace of mind to our customers. Hyundai vehicles are sold and serviced through more than 830 dealerships nationwide with the majority sold in the U.S. built at U.S. manufacturing facilities, including Hyundai Motor Manufacturing Alabama. Hyundai Motor America is headquartered in Fountain Valley, California, and is a subsidiary of Hyundai Motor Company of Korea.