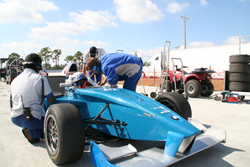 Laguna Beach, CA—Michael Lewis, of Laguna Beach, California, turned some heads with his impressive lap times at the first collective test session of 2009 for the Formula BMW Americas Championship at Palm Beach International Raceway, in Jupiter, Florida, on Monday, February 16, and Tuesday, February 17.
Michael was second quickest on the final day of the two-day session, and fastest in the morning session on Tuesday. Michael was just behind his Eurointernational teammate and series veteran Gaby Chaves, who set the fast time.
"I think the car is quite well built," said Michael, who drove the Formula BMW FB02 for the first time during the test session. "It's stiff, it has a lot to it, and it really gives the driver a lot to do. You can feel the way the changes affect the car, the chassis package is well balanced, I really like driving the car. Eurointernational gave me a great car for my first collective test opportunity."
Next up will be the Introductory Test at Carolina Motorsports Park on March 2 and 3, with Rounds 1 and 2 of Formula BMW Americas Championship in Puebla, Mexico, March 20–22.
Sponsors involved with Michael's Formula BMW Americas Championship team include CTECH Aluminum Trailer Cabinets, Eibach Springs, SSI Decals, Position One Motorsports, Oakley, Team ASE, Klotz Products, Orlando/Orange County Convention Center, Bell Racing Company, and Earl's Performance Plumbing.