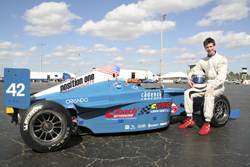 Laguna Beach, CA—The reigning championship team in the Formula BMW Americas Championship race series has announced that kart series veteran Michael Lewis, of Laguna Beach, California, has joined the team.
"We have just completed our preseason tests in FBMA Americas and Michael has shown continuing progress in his lap time and consistency," said Eurointernational team owner Antonio Ferrari. "A natural talent combined with a very professional and dedicated approach has put Michael already on top of the times and as the fastest rookie during the recent first collective FBMW Americas test at Palm Beach International Raceway," which was held February 16 and 17.
"Personally, and with all my racing organization, I am very proud to work with Michael and to be associated with Steve and Loretta Lewis," added Ferrari.
In the past seven years, Eurointernational has won six team and driver championships in the United States and Europe, including the 2008 FBMW World Final in Mexico City and the 2008 FBMW Americas Championship with driver Alexander Rossi. With a total of 66 wins, 140 podiums, and 66 poles, Eurointernational is among the elite racing organizations around the world competing in FBMW Europe, Superleague Formula, Formula Atlantic, and FBMW Americas with teams based in USA and Italy.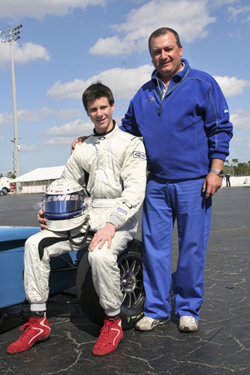 "I am very pleased to be a part of the Eurointernational race team and to participate in the Formula BMW Americas series," stated Michael Lewis. "Because I am a rookie, the experienced Eurointernational team will be able to help me learn the different tracks where we will compete this season. Eurointernational has a prestigious racing tradition, especially in the Formula BMW Americas series as they won the 2008 series championship with Alexander Rossi. It is such an honor for me to be a part of the Eurointernational team and to drive for Antonio Ferrari."
Michael began his racing career in 2003 at the age of 12 in 1/4 midgets. He raced 1/4 midgets full time for three seasons winning numerous pole position awards, heat races, main events, and two championships in Senior Honda and Light 160. In 2006, Michael committed full time to racing go karts in the United States at the club, regional, and national levels. During the summer of 2006, Michael frequently raced in Europe at the junior level, participating in Rotax Challenge events at Parma and Jeselo, Italy.
From 2007 through 2008, Michael raced an average of 30 karting events each year. In 2007, Michael went back to Italy to race with Dino Chiesa's Zanardi team and participated in an Italian Open Masters event and in the French Open at Lyon, France.
In the 2008 season, Michael concentrated on his karting commitments both in the United States and in Europe. He won the championship for the Region 7 IKF TAG Class and finished 4th in the HPV-3 class. Michael's success in the TAG class came with the help of Mike Manning, and MMK provided a winning environment for Michael to win the Region 7 IKF TAG Championship.
Michael's European racing schedule was expanded for 2008 as he competed in all the WSK kart events in the KF-2 class for Chiesa Corse. Michael raced for Dino and his Zanardi karts in selected regional events, as well.
Michael will compete in the full Formula BMW Americas Championship and select pavement events in the USAC Ford Focus Midget championship in 2009.
Sponsors involved with Michael's Formula BMW Americas Championship team include CTECH Aluminum Trailer Cabinets, Eibach Springs, SSI Decals, Position One Motorsports, Oakley, Team ASE, Klotz Products, Orlando/Orange County Convention Center, Bell Racing Company, and Earl's Performance Plumbing.
Michael is currently testing with the Eurointernational team, and will compete in the Formula BMW Americas Championship series' first race at Puebla, Mexico, March 20–22, 2009.
The 2009 Formula BMW Americas Championship full schedule is:
March 20–22 Puebla, Mexico
April 24–26 Virginia International Raceway
May 15–17 Miller Motorsports Park
July 17–18 Lime Rock Park
August 14–16 Road America
August 28–30 Mosport
EVENT TBA