Michael Lewis Sets Quick Time At Madera Ford Focus Event
Laguna Beach, California (June 15, 2009) — Michael Lewis captured the USAC California Pavement Ford Focus pole on Saturday night, June 13, at the 1/3-mile Madera Speedway, in Madera, California, driving the #60 Western Speed Focus Midget with a lap of 14.882.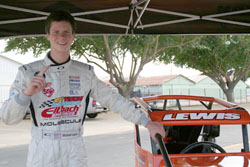 "Kevin and Kent Gerhardt had the car perfect for our qualifying effort and I just concentrated on being smooth and hitting my marks, and the result put us on top of the charts," exclaimed Michael Lewis. In the eight-lap heat race, Michael ran second to teammate Cody Gerhardt.
Michael finished the 25-lap main event in fifth position after encountering two on-track incidents, putting him to the back of the pack each time. "We definitely had the speed, but it was a wild night out there and I just got caught up in a couple of racing incidents. We were fortunate to salvage a fifth-place finish."
Even though Michael has missed three USAC California Pavement Ford Focus events, he is currently fifth in points and his teammate Cody Gerhardt is third in points, and Cody is only 16 points behind the series leader.
Michael's next Ford Focus race will be this coming Saturday, June 20, at the Las Vegas Motor Speedway Bullring.
A great sponsor team is involved with Michael's USAC Focus effort, which includes CTECH, Eibach Springs, Position One Motorsports, SSi Decals, Oakley, Team ASE, Klotz, Orange County Convention Center, Bell Racing, and Earl's Performance Plumbing, along with Performance Trailer, Western Speed Racing, K&N Motorsports, Weld Racing, Aurora Bearing Company, and Mettec.