Laguna Beach, California — Michael Lewis hit the jackpot at the 3/8-mile Las Vegas Motor Speedway Bullring when he drove the #60 Western Speed Ford Focus Midget to his second USAC California Pavement Ford Focus Series win on Saturday, June 20. Michael was fast all evening as he qualified second with a time of 15.525 and then he and his teammate Cody Gerhardt finished one-two in the heat race.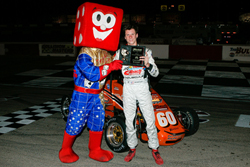 "The heat race went very well," explained Michael. "We tried some things to make sure the car was stable for the main. We found out that the cars were very balanced and both cars were quick as we drove off. It was only six laps but it was very fast and the car was really good.
"Kevin Gerhardt and the Western Speed group gave us terrific cars for this event," continued Michael. "Their hard work really made the cars fast."
Michael started the 30-lap main event inside the second row directly behind Cody Gerhardt who started inside the front row. When the green flag waved, Cody and Michael took off in a close one-two formation and built a five-car-length cushion on the field. On lap 14, Michael edged by Cody to take the lead. Right after this pass occurred, unfortunately for Cody, another competitor made contact in turn one and Cody spun, which ended the opportunity for a Western Speed one-two finish at the Bullring. Michael led the remaining laps to capture his second USAC California Pavement Ford Focus Series win.
"With Cody out in front and I was in second place, we drove off from the field," described Michael. "Both cars were handling very well. About halfway through, I made a move on my teammate and got around him. But a lap later after I passed him another driver also tried passing Cody, but ended up crashing into him or spinning him out, so that ruined a one-two finish. I had to battle hard the last five laps because of a yellow flag and a restart. But I ended up taking home the win."
Michael will miss the upcoming Roseville Ford Focus event because of his commitment to a Formula BMW Americas Collective Test June 26–27, at Putnam Park in Indiana. The next Ford Focus event for Michael will be July 25, at Rocky Mountain Raceway, in West Valley City, Utah. As a result of the Bullring win, Michael remains fifth in series points, while teammate Cody Gerhardt's fifth-place finish put him third in the USAC California Pavement Ford Focus Series driver's championship standings.
A great sponsor team is involved with Michael's USAC Focus effort, which includes CTECH, Eibach Springs, Position One Motorsports, SSi Decals, Oakley, Team ASE, Klotz, Orange County Convention Center, Bell Racing, and Earl's Performance Plumbing, along with Performance Trailer, Western Speed Racing, K&N Motorsports, Weld Racing, Aurora Bearing Company, and Mettec.