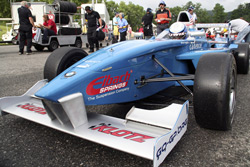 Laguna Beach, California (July 20, 2009) — Michael Lewis entered the Lime Rock Formula BMW Americas Rounds 8 and 9 with a high degree of optimism, and after recording the third quickest time in the single 20-minute practice session, both Lewis and his Eurointernational Team looked forward to a productive race weekend. Lewis qualified fifth for Round 8, and experienced rain conditions for the first time for the qualifying effort for Round 9 where he qualified in sixth position.
Lewis was moved up to fourth starting position on the grid for the start of the 25-minute Round 8 event because of a disqualification of another driver due to a tech infraction. He got an excellent start at the beginning of Round 8, and came out of turn one in third position. Unfortunately, this was the highlight of the race as halfway through the second lap in the chicane he was hit hard from behind by another competitor and spun off the track into the tire barrier. That ended his day and he was credited with 11th finishing position.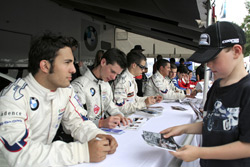 For the Round 9 event Lewis started sixth on the grid. Again, he got a great start as he vaulted in to fifth place as the pack exited turn one. But circumstances again came into play with some confusion in the back part of the track and Lewis slipped back to eighth. With determination and effort, he reclaimed sixth position by the end of the race.
"The Eurointernational team worked hard all weekend and gave me a fast car. The mechanics worked overtime between Rounds 8 and 9 repairing the right rear corner that was damaged in the Round 8 crash," said Lewis. "Even though the results were not what we wanted or expected, my lap times were good so I am optimistic about the five remaining races."
Elkhart Lake's famous Road America Track August 14-16 is the scene for the next Formula BMW Americas racing event. It will be a big weekend as there will be three 25-minute events, so there is an excellent opportunity for Lewis to climb back into the Rookie Championship points battle. "I look forward to going to Elkhart Lake and running on the big fast track, and I know Antonio Ferrari will give me a car that can run up front," said Lewis.
A great sponsor team is involved with Michael's Formula BMW effort, which includes CTECH, Eibach Springs, Position One Motorsports, SSi Decals, Oakley, Team ASE, Klotz, Orange County Convention Center, Bell Racing, and Earl's Performance Plumbing.