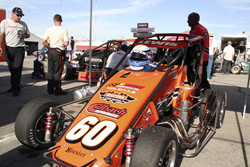 Laguna Beach, California (July 27, 2009) —The Western Speed Ford Focus team traveled to Salt Lake City, Utah, on Saturday night, July 25, visiting the fast, high-banked Rocky Mountain Raceway. Drivers Michael Lewis and Tanner Swanson were at the helm of the two Western Speed Ford Focus midgets for this race, with Michael qualifying second with a very quick time of 15.464 that featured a strong contingent of local veteran Ford Focus drivers many of whom were doing double duty in the USAC sprint program. Michael, driving the #60, started seventh in his 12-lap heat race and charged forward to claim a strong third place finish. Tanner Swanson, substituting for regular driver Cody Gerhardt in the #40 due to a race track age restriction, won his heat race.
"For the heat race, the car was very fast," explained Michael. "The competition was very close, and it's very difficult to pass at Rocky Mountain Raceway. Third place is a great finish from where we started in seventh. We had a great car to go for the win in the main event."
Michael started the 25-lap Ford Focus main event from the inside of the third row and methodically worked his way to third place right behind teammate Tanner, and they finished second and third when the checkered flag came out. The very strong podium finishes for Tanner and Michael will substantiate the car owner points lead for the Western Speed team with the #60 and #40 cars running one-two in points, respectively.
"When we went to the main event, we made some changes from the heat race to make the car faster," Michael said. "In the main event, I started fifth and worked my way up to third. I made a good pass to secure the third spot. It was so close and everybody was dead even that no one could make a big move on each other. It was a great event, and I am excited that both of the Western Speed cars were up front."
Michael's next event in the USAC California Pavement Ford Focus Series will be August 22nd at the Orange Show Speedway in San Bernardino, California.
A great sponsor team is involved with Michael's USAC Focus effort, which includes CTECH, Eibach Springs, Position One Motorsports, SSi Decals, Oakley, Team ASE, Klotz, Orlando/Orange County Convention & Visitors Bureau, Orange County Convention Center, Bell Racing, and Earl's Performance Plumbing, along with Performance Trailer, Western Speed Racing, K&N Motorsports, Weld Racing, Aurora Bearing Company, and Mettec.