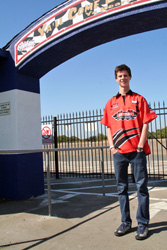 Laguna Beach, California (October 12, 2009)—After winning at Orange Show Speedway the last time Michael Lewis drove the #60 Western Speed Ford Focus midget in the USAC California Pavement Ford Focus Series, he visited New Stockton 99 Speedway on Saturday, October 10, with high expectations. Before a packed house of enthusiastic Northern California race fans, Michael qualified second, which placed him inside the third row for the start of the 40-lap feature at the 1/4–mile asphalt oval track in Stockton. When the main event began Michael and his teammate Cody Gerhardt made a clean start but it took them both a few laps to move past traffic, which allowed the leader to pull away. The feature event ran non-stop so Cody and Michael drove the two Western Speed team cars to third and fourth respectively.
"As always Kevin Gerhardt gave me a great car and we qualified well," said Michael. "For the first 10 laps of the feature it looked like I could quickly get to the front but suddenly the brakes went away and I did not want to force the issue with Cody so fourth place was about the best we could achieve."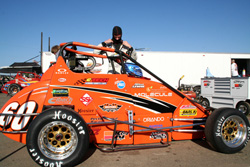 Michael now stands fifth in the USAC California Pavement Ford Focus Series' drivers points even though he has missed several events because of his Formula BMW Americas commitment. Two more races are scheduled in the Ford Focus series for 2009, which will take place at Madera Speedway on October 24, and the final event of the year will be at Toyota Speedway at Irwindale on Thanksgiving, November 26.
"If we can keep the pace we maintained throughout the year and finish well at the final two races the #60 Western Speed Ford Focus midget has a great chance to win the car owners championship and we could even make the top four in the final driver's standings," added Michael.
A great sponsor team is involved with Michael's USAC Focus effort, which includes CTECH, Eibach Springs, Position One Motorsports, SSi Decals, Oakley, Team ASE, Klotz, Orange County Convention Center, Orlando Convention & Visitors Bureau, Bell Racing, and Earl's Performance Plumbing, along with Performance Trailer, Western Speed Racing, K&N Motorsports, Weld Racing, Aurora Bearing Company, and Mettec.