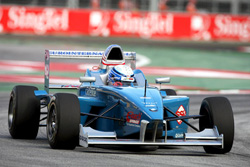 Laguna Beach, California (September 28, 2009)—After earning the 2009 Rookie Championship in the Formula BMW Americas Championship for the Eurointernational team, Michael Lewis was invited by team owner Antonio Ferrari to participate in Rounds 11 and 12 of the Formula BMW Pacific series in Singapore, on September 26 and 27, which Michael proved his skill by taking second place in Round 12 on Sunday.
Michael adjusted quickly after the twenty-one hour flight from Los Angeles to Singapore. Because this Formula BMW Pacific event ran in conjunction with the Singapore Formula 1 event, there was limited track time so Michael had to use the one twenty-five minute practice session for Formula BMW drivers on Friday to quickly learn the track and get up to speed fast, which he did. He earned "position 3" at the Friday practice session and there were high expectations that Michael would then qualify well for Rounds 11 and 12. However, some confusion occurred during qualifying for Round 11 and Michael ended up 10th on the grid for Saturday's race. For Sunday's Round 12, Michael's qualifying effort put him second on the grid, starting on the front row next to his Eurointernational teammate Felipe Nasr.
"I knew the importance of getting up to speed quickly because at these street course events passing is somewhat of an art form," explained Michael. "I wanted to be up front where the air is clear and I could concentrate on hitting my marks so I could have the opportunity to brake away from the pack of the other 20 competitors."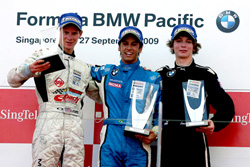 During Saturday's Round 11, Michael fought hard throughout the race moving from tenth position up to eighth, but because of extreme traffic conditions the best finish he could achieve was eleventh. However, circumstances for Sunday's Round 12 Formula BMW Pacific race were much different. Michael started the race from the front row and quickly fell into line behind Eurointernational teammate Felipe Nasr and off they went. As the race progressed Felipe and Michael put a five-car length lead on the third-place driver. Three laps from the end the Safety Car made an appearance on the track, which allowed all of the cars to catch up to Felipe and Michael. The last two laps were very exciting as again Michael and Felipe drove away and built a cushion between them and the rest of the pack. Fellow Eurointernational team driver Australian James Kovacic placed third giving Antonio Ferrari a podium sweep of the Round 12 Formula BMW Pacific race.
"I am so proud of my three drivers," said Antonio. "They worked hard all weekend and the result speaks for itself. Our Eurointernational team worked night and day to get the cars prepared quickly, and it means so much to see these young drivers do so well and achieve the reward of the podium finish. This was a big moment for them and also for our team."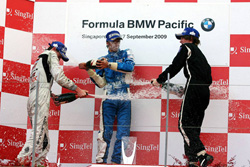 "I want to thank Antonio Ferrari for bringing me to Singapore, and also wish to thank my mechanic John Wolters and race engineer Nicola Sgotto for all of their efforts," said Michael. "They gave me a car that was fast from the first practice session to the finish of yesterday's race. Racing in Singapore was quite an experience for me and to be able to race in front of all the fans on a street course and be a part of the Formula 1 racing circus was really special. I gave it all I had and I was proud to be a part of the Eurointernational team's 1-2-3 finish at Singapore. It was also special be able to deliver to my sponsor team an extra added exposure bonus of having both Rounds 11 and 12 televised live throughout Europe and Asia, as well as live video streaming."
These Singapore Formula BMW Pacific races conclude Michael's 2009 Formula BMW race season. Plans are currently being developed so Michael can continue being a part of the Eurointernational team next season where Michael will most likely be racing in the Formula BMW Europe division for 2010. To finish the 2009 season Michael has three more USAC California Pavement Ford Focus events that he will participate in driving for the Kevin and Kent Gerhardt Western Speed team. Michael's last race for 2009 will be the prestigious annual Thanksgiving Grand Prix that will be held at Toyota Speedway at Irwindale, on Thursday, November 26.
A great sponsor team is involved with Michael's Formula BMW effort, which includes CTECH, Eibach Springs, Position One Motorsports, SSi Decals, Oakley, Team ASE, Klotz, Orange County Convention Center, Orlando Convention & Visitors Bureau, Bell Racing, and Earl's Performance Plumbing.