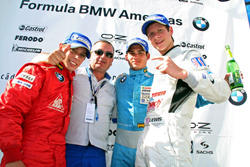 Laguna Beach, California (September 11, 2009)—After recently being crowned the 2009 Formula BMW Americas Rookie Driver Champion, Michael Lewis has been invited to make a guest driving appearance for the Eurointernational team at the Singapore Formula BMW Pacific event that will be held in conjunction with the Formula 1 Singtel Singapore Grand Prix, September 25–27.
"The Singapore F1 GP will be a unique experience for Michael and a great reward for his Rookie Championship in Formula BMW Americas," said Eurointernational team owner Antonio Ferrari. "It will be the first ever street race for Michael, and together with the unique track condition in an F1 night event, Michael will have his first taste of an international competition outside the Americas."
Michael will have to get up to speed quickly at this event as there will be only one 25-minute practice session, one 25-minute qualifying session where the best first and second times will determine the grid for race one and the grid for race two, along with two 25-minute races.
After graduating from Laguna Beach High School this past June, Michael just recently began his college career at California State University, Fullerton, and received approval from his professors to miss a week of classes to take the trip to Singapore for this prestigious race event.
"I am honored to have this opportunity to race again with the Eurointernational team and to be able to race with the Formula BMW Pacific series drivers," said Michael. "Antonio Ferrari is also bringing my teammates Gabby Chaves, who clinched the 2009 Formula BMW Americas Championship, Giancarlo Vilarinho, who finished second with Eurointernational in the 2009 Formula BMW Americas Championship, and James Kovacic, who I battled with for the rookie championship, so it will be fun racing with my friends at the famous Singapore circuit. Because of the long plane ride I will have plenty of time to get all of my college assignments done so I will be in good shape when I return to class."
The Singapore Formula BMW Pacific event is a very prestigious race because it is held in conjunction with the Formula 1 night race and has a heritage of selling out all of the seats. "This is a tremendous opportunity for all my sponsors because we will be racing with the Formula 1 group and our Formula BMW races will be televised in the Asian and European markets," added Michael.
Michael departs to Singapore on September 22nd and returns home September 29th. This will be his last appearance in a Formula BMW car for 2009. Currently plans are being developed so Michael will have an opportunity to continue his Formula BMW career next season with the Eurointernational team.
A great sponsor team is involved with Michael's Formula BMW effort, which includes CTECH, Eibach Springs, Position One Motorsports, SSi Decals, Oakley, Team ASE, Klotz, Orange County Convention Center, Orlando Convention & Visitors Bureau, Bell Racing, and Earl's Performance Plumbing.