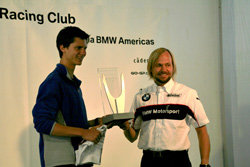 Laguna Beach, California (August 31, 2009)—The final two rounds of the 2009 Formula BMW Americas Championship season were held at the famous Mosport International Raceway, in Canada, where Michael Lewis earned the Rookie of the Year driver championship. Michael arrived to Mosport in second place in the Rookie Championship standings trailing by only two points. During the four practice sessions over the weekend, Michael drove the #42 Eurointernational car consistently running in the top three on the time charts. His objective was to qualify ahead of the two drivers that he was battling with in the rookie points. On Friday, Michael qualified fourth for both the Saturday and Sunday final events putting him ahead of rookie competitors Australian James Kovacic and Canadian Alex Ellis for both the Saturday and Sunday rounds.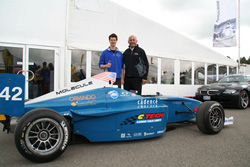 "I knew that I had to keep my focus, learn the track, be fast and qualify in the top four to have a chance to compete for the Rookie Championship," explained Michael Lewis.
On Saturday morning for Round 13, Michael started well, but Canadian Alex Ellis quickly got around Michael for fourth position and at the end of the race Michael finished fifth, with a six-point lead over Ellis and Kovacic. For Sunday's Round 14, Michael got a great start but trailed Canadian driver Gianmarco Raimondo. Michael finished Round 14 in fourth position fighting off a late charge by Kovacic, who finished only 0.05 seconds behind Michael, and closely followed by Joao Horto. This fourth-place finish in Round 14 earned Michael Lewis the 2009 Formula BMW Americas Rookie Driver Championship.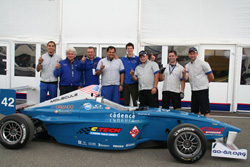 "It really is a dream come true to reach maybe the more difficult goal of the season, but we did it," said Eurointernational team owner Antonio Ferrari. "We are very pleased about this. This is also the first time we won the rookie championship in the Formula BMW Americas Championship, so this is another big achievement. And Michael perfectly executed everything. It was a very difficult situation, and under pressure, he performed very well. We are very happy about everything he achieved."
"It is truly an honor for me and the entire Eurointernational team to be able to compete for the Rookie Championship this year," added Michael. "There was a great rookie class this year and it was hard racing at each event. Antonio Ferrari had confidence in me and along with our engineer Nicola Sgotto and my mechanic John Wolters, these guys gave me every tip possible so I could race up front and make a realistic challenge for the Championship. It was a great way to end my first season in formula car racing. I want to share this achievement with all my sponsors who played a key role in the process of my 2009 Formula BMW Americas racing season."
Michael Lewis will finish out the 2009 racing season competing in the USAC California Pavement Ford Focus Series events and will also participate in the Ford Focus portion of the annual Thanksgiving Grand Prix race at Toyota Speedway At Irwindale to end the season.