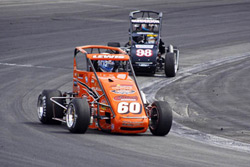 Laguna Beach, California (August 24, 2009)—Michael Lewis had a stellar night being the driver to beat from setting quick time to crossing the finish line ahead of the pack in the #60 Western Speed Ford Focus midget at the famous Orange Show Speedway in San Bernardino, California, on Saturday, August 22. He began the evening strong with a qualifying effort by setting a quick time of 12.838 that put him just ahead of teammate Cody Gerhardt. Michael then started fourth in the four-lap Trophy Dash and finished third. For the 30-lap USAC California Pavement Ford Focus Series main event, Michael started outside the second row and at the drop of the green flag Michael went to the high groove and quickly passed the front row drivers and set sail building a huge gap on the field as the race progressed. Although several cautions occurred during the later stages of the feature race, after each yellow flag Michael's restarts were perfect and he maintained a healthy gap on the second place finisher at the end of the feature event.
"Kevin and Kent Gerhardt gave me a perfect car on Saturday night and all I had to do was hit my marks, keep the car straight, and everything fell into place," said Michael. "It felt good to win at the Orange Show Speedway track as I know about the extensive racing history of this famous facility, which meant a lot to our sponsor team and for the Western Speed Ford Focus team."
"Michael was quick from the time we unloaded and tested," said Western Speed team owner Kevin Gerhardt. "His fast-time qualification out of 13 competitors at a track he has never competed at is quite an accomplishment. After starting outside of the second row and jetting to the front of the field by the 3rd lap Michael set sail and dominated the race stretching his lead by half a lap at times. Needless to say the team is extremely happy for Michael having won at Orange Show Speedway…a place where his father Steve witnessed his first midget race and claims 'this is what started it all,' referring to his long tenure as a midget team owner."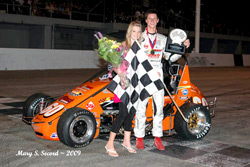 The win at San Bernardino was the third USAC Ford Focus feature win this season for Michael. He retains fifth position in the drivers points, while the Western Speed Racing #60 car remains first in entrant points. Teammate Cody Gerhardt lies in second place in the series standings, and his #40 car is second in series' entrant points.
"The best and greatest race drivers have raced and won at the Orange Show Speedway, which is a facility that was built in the late 1930s as a Roosevelt era WPA project," added Michael's father Steve Lewis. "URA midget greats Billy Cantrell, Johnny Morehouse, Allen Heath, along with Rodger Ward, Troy Ruttman, and many other midget greats raced at the Orange Show Speedway. Also, the Orange Show track has been where all the great Southern California late model drivers like Dan Press, Ron Hornaday (Sr. and Jr.), and the Scheidecker family have raced over the years, so it was truly a special moment for Michael to cross the finish line first in the very competitive Ford Focus Feature event."
Michael's next event will be the final two rounds of the Formula BMW Americas Championship this weekend, August 29–30, at Mosport International Raceway in Canada, and his next scheduled Ford Focus event will be at Madera Speedway on September 19.
A great sponsor team is involved with Michael's USAC Focus effort, which includes CTECH, Eibach Springs, Position One Motorsports, SSi Decals, Oakley, Team ASE, Klotz, Orange County Convention Center, Orlando Convention & Visitors Bureau, Bell Racing, and Earl's Performance Plumbing, along with Performance Trailer, Western Speed Racing, K&N Motorsports, Weld Racing, Aurora Bearing Company, and Mettec.