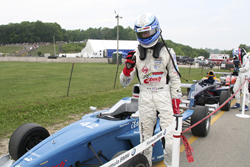 Laguna Beach, California (August 17, 2009)—Michael Lewis came to Elkhart Lake, Wisconsin's Road America with a mission for the Formula BMW Americas Championship's Rounds 10, 11 and 12, and by securing two podium finishes, mission accomplished.
Michael arrived at the track in second place of the coveted Rookie Championship, with a 23-point deficit. Michael qualified fourth and sixth for rounds 10 and 11, which gave him decent starting positions.
After each session on the historic, four-mile Road America, Michael became for comfortable and his confidence grew as his lap times came down, and as a result, he earned his spot on the podium with two third-place finishes for Rounds 11 and 12, which both took place on Sunday, August 16, and he had a strong sixth-place finish for Round 10 on Saturday, August 15. As a result of the consistent finishes, Michael climbed within one point of the Rookie Championship and created a nine-point lead over the third-place rookie contender.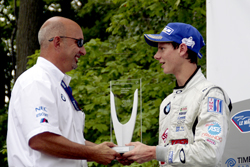 "I knew what I had to do at Road America to get back in the running for the Formula BMW Rookie Championship," explained Michael. "My Eurointernational team, under the direction of owner Antonio Ferrari and engineer Nicola Sgotto, gave me a car that was tuned to the track so all I had to do was my job, which is to drive well, and we ended up with a great weekend."
The final two rounds of the Formula BMW Americas Championship will occur the weekend of August 29 and 30 at the famous Canadian Mosport International Raceway. "We have momentum now and a fighting chance to contend for the Rookie Championship," said Michael. "I know my team will give me a competitive car and it is my responsibility to go out, work hard, and do my best to bring the 2009 Formula BMW Rookie Championship to the Eurointernational team stable.
"This has been a fantastic season for me and the Formula BMW series has offered a great learning opportunity for a young driver like myself," continued Michael. "All of this has come about because of the great sponsor team behind this effort that includes CTECH, Eibach Springs, Molecule/Position One Motorsports, SSi Decals, Oakley, Team ASE, Klotz, Orange County Convention Center, Orlando Convention & Visitors Bureau, Bell Racing, and Earl's Performance Plumbing."
Please visit Michael's website at www.mjlracing.com.