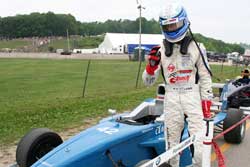 Laguna Beach, California (November 2, 2009)— Michael Lewis traveled to Japan to visit the Okayama International Circuit for Rounds 13 and 14 of the Formula BMW Pacific series with the Eurointernational team, and proved that he was fast right from the first practice session, but unfortunately, the results did not show his potential.
Michael arrived in Japan late on Wednesday, October 28, after a 14-hour trip from Los Angeles, and he went right to work on Thursday learning the track to prepare for Friday's practice and qualifying sessions. His work paid off as he was second on the early morning Friday practice charts and ended up qualifying sixth for both the Saturday and Sunday Formula BMW Pacific events.
At the start of Saturday's race Michael slipped back to seventh position and then began climbing his way to the front. His charge left him short of the podium finish he was looking for as he ended up fourth overall but set the second quickest lap during the 25-minute race. "As always the Eurointernational team gave me a great car that was fast," said Michael. "I just got jammed up at the start and once I got free I could click off decent lap times. I was closing fast on third place but ran out of time!"
Both the team and Michael had high expectations for Sunday's event. When the Formula BMW cars were lining up on the grid, suddenly the sky opened up and rain began to pour. The first two laps were run with the safety car out front, but after the green flag waived Michael proceeded to march from his sixth place starting position to the front. With four laps to go he was in second place and closing in on the leader. Unfortunately while running in second Michael slid off the course onto the grassy area and could not re-enter the race course, which ended his day.
"Michael has the speed and today demonstrated that he can go fast in the rain but he just made a small mistake and that impeded a potential second-place podium finish for Michael and our Eurointernational team," said Antonio Ferrari owner of the Eurointernational team. "He learned a lot with his two Formula BMW Pacific guest appearances at Singapore and Japan, which will help him prepare for next season's Formula BMW Europe program."
Michael will run the entire 2010 Formula BMW Europe season with the Eurointernational team, with visits planned to tracks in Spain, Turkey, England, Germany, Hungary, Belgium, and Italy.
The Okayama Formula BMW Pacific guest appearance concludes Michael's 2009 Formula BMW racing commitment. Michael will now concentrate on preparation for the final USAC California Pavement Ford Focus event that will take place at Toyota Speedway at Irwindale on Thanksgiving evening. Michael will drive the #60 Western Speed Ford Focus car in that event.
Michael and Eurointernational want to thank a great sponsor team that was a valuable component to the success of Michael's 2009 Formula BMW program, which includes CTECH, Eibach Springs, Position One Motorsports, SSi Decals, Oakley, Team ASE, Klotz, Orange County Convention Center, Orlando Convention & Visitors Bureau, Bell Racing, and Earl's Performance Plumbing.