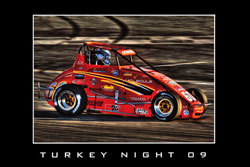 Laguna Beach, California—The most important race of the year for all Ford Focus teams and drivers is the season-ending, annual Turkey Night Grand Prix, at Toyota Speedway at Irwindale, in California. Thirty Ford Focus teams entered the USAC event bringing drivers from all across the country to compete on Thanksgiving at the 1/3-mile paved oval. Michael Lewis and his teammate Cody Gerhardt came to the final 2009 USAC California Pavement Ford Focus Car Series event with five feature wins between them. Both drivers recorded strong lap times during the five practice sessions and looked forward to a strong qualifying effort. Michael qualified the orange #60 Western Speed Ford Focus midget in 5th place, which because of the six-car invert, placed him on the front row for the start of the 40-lap feature.
"Kevin Gerhardt worked really hard for both Cody and me and gave us great cars," said Michael. "Our qualifying times were really good and I felt I had a real chance to get a win for the Western Speed team."
The Ford Focus feature event preceded the 98-lap USAC Midget race so the grandstands were packed to see Michael as he started on the outside of the front row. When the green flag waved he quickly tucked in behind the leader and the chase began. The racing was fast and furious with the top four cars running nose to tail. Michael lost a position during lapped traffic and worked hard to get it back when suddenly a yellow flag waved because a competitor spun off the track. Because of a scoring malfunction Michael was placed back one position, which took Michael a number of laps to regain the third spot, which is where he finished when the checkered flag waved.
"Michael had the opportunity to be the driver's champion had he been able to run all the scheduled events during the Focus series year," said Kevin Gerhardt. "Had it not been for the conflicting BMW series events he attended I am certain Michael would be accepting the champion's trophy and ring at the annual USAC awards banquet. Michael was fast every time he was in the car and was a threat for the win at every track we attended. The wins at Orange Show Speedway and Madera are probably the most memorable—Orange Show because of its vast history in midget racing and Madera because it is considered our home track. Western Speed Racing is hoping Michael will be able to accommodate some Focus races next year in between his obligations with the European BMW race series."
Michael Lewis had a very successful season driving the #60 Western Speed Ford Focus midget. He recorded three feature wins, earned four fast time qualifying awards and numerous heat race wins. Although Michael competed only on a part-time basis this season, he still earned 4th position in the USAC California Pavement Ford Focus Car Series driver points and the #60 Ford Focus midget earned the car owner's championship for Western Speed Racing.
"It was really a great experience to be a part of the Western Speed Ford Focus team. I learned a lot from Kevin Gerhardt and the entire Gerhardt family, who were great to work with. I hope to come back next season when I return from Europe to run some more races with the Western Speed team," concluded Michael.
A great sponsor team is involved with Michael's USAC Focus effort, which includes CTECH, Eibach Springs, Position One Motorsports, SSi Decals, Oakley, Team ASE, Klotz, Orlando/Orange County Convention & Visitors Bureau, Orange County Convention Center, Bell Racing, and Earl's Performance Plumbing, along with Performance Trailer, Western Speed Racing, K&N Motorsports, Weld Racing, Aurora Bearing Company, and Mettec.