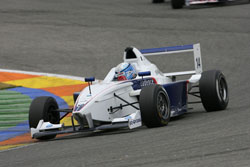 Laguna Beach, California (December 21, 2009)—2009 Formula BMW Americas Rookie Cup winner Michael Lewis will join the U.S. Formula Project Formula BMW Europe team and will compete in all of the 2010 Formula BMW Europe events, announced U.S. Formula Project Team Manager Alessandro Ferrari.
Michael will be the only American competing in the Formula BMW Europe series in 2010. Although Michael is joining a new team to this series, Team Manager Alessandro Ferrari brings an extensive motorsports background, being the former race director of the historic WSK (World Series Karting) Series in Europe.
"I saw Michael in WSK karting races as race director in 2008, and now I am very happy to be his team manager," said Alessandro. "We have just completed a grueling four-day test session in Valencia, Spain, with Michael and our other U.S. Formula Project drivers. Michael has shown continuing progress in his lap times and consistency. We are very pleased to have Michael be a part of our team, and the fact that he has BMW Junior status because he earned the Formula BMW Americas Rookie Cup is an added plus for Michael and our team. This will be the second season for Michael in Formula BMW, and with his natural talent combined with his very professional and dedicated approach, will give him the opportunity to compete with the strong contingent of rookie and returning drivers."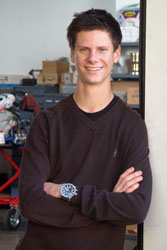 Michael Lewis competed in the 2009 Formula BMW Americas series with the Eurointernational Inc. team and immediately adapted to the rigors of a competitive junior road racing series. The 2009 Formula BMW Americas series featured a strong rookie class of drivers all of whom pursued the coveted Rookie Cup Championship. After the 14 race season concluded, Michael was crowed 2009 Formula BMW Americas Rookie Cup Champion, and besides receiving the Rookie Cup trophy, BMW awarded Michael an $80,000 scholarship to be applied toward the 2010 Formula BMW Europe Championship along with being awarded "junior status" by BMW.
By receiving the BMW Formula BMW Junior status, Michael automatically participates in the BMW Motorsport Education and Coaching Program, which is designed to allow the drivers to hone their on-track skills, and provide valuable guidance regarding their off-track conduct. The curriculum of the Program includes technical aspects, such as working with data acquisition and car set-up, driving style, fitness and nutrition, and sponsor and media relations.
"A well-rounded support and education package lays the foundation, thus enabling the young drivers to meet the ever-increasing demands of their careers," explained BMW Motorsport Director Mario Theissen about the Formula BMW program.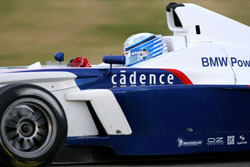 "I am very pleased to be a part of the U.S. Formula Project race team and to be able to participate next season in the competitive Formula BMW Europe series," added Michael Lewis. "I am also looking forward to working with Alessandro Ferrari, the team engineers, and my mechanic, who have already been a big help to me at the winter test sessions. The experience the team brings will be a big help to me to quickly learn and adapt to the European tracks. I am excited about the opportunity to be a part of the Formula BMW Europe series and to be able to race with the best young drivers at all the great European venues."

Michael began his racing career in 2003 at the age of 12 in 1/4 midgets. He raced 1/4 midgets full time for three seasons winning numerous main events and championships. Michael committed full time to racing karts in the United States at the club, regional, and national levels in 2006. During the summer of 2006, Michael frequently raced in Europe at the junior level participating in Rotax Challenge events at the famous Parma track and the Jesolo, Italy, track.
From 2007 through 2008, Michael raced an average of 30 karting events annually. For the 2008 season, Michael was invited to become a part of the Chiesa Corse kart team owned by "tuner" Dino Chiesa to race in the competitive WSK KF-2 class. Michael also found time during that busy season to win the IKF Region 7 TAG Senior Championship and won the big $2,000-to-win PRO IKF race at California Speedway.
Michael supplemented his 2009 Formula BMW Americas racing program with a number of USAC Ford Focus events driving for the Madera, California-based Western Speed Ford Focus team. Michael won three Ford Focus feature events, earned four fast time awards, won numerous heat races, and finished fourth in the final USAC California Pavement Ford Focus Series championship standings.
"I really enjoyed racing this past season having the opportunity to race both on road courses and ovals with two highly respected teams," added Michael.
All of the 2010 Formula BMW Europe events will run in conjunction with Formula 1 events except for the Zandvoort, Netherlands, race, which will be held in conjunction with the Masters of Formula 3. This will give Michael the opportunity to race at the world's finest racing venues and to be able to showcase his talents in front of hundred of thousands of spectators throughout Europe. The Formula BMW Europe series receives excellent television and media coverage.
"Racing in Europe is going to be a big bonus for all my sponsors because of the outstanding media coverage both for television as well as all of the website outlets that cover the junior racing series," stated Michael.
Michael is currently a full-time college student at California State University, Fullerton, majoring in business/marketing, and will continue his college education while living in Europe with a special online program. The first Formula BMW Europe event will be May 7–9, 2010, at Barcelona, Spain, in conjunction with the Spanish F1 Grand Prix.
The 2010 Formula BMW Europe Schedule is as follows:
May 7–9: Rounds 1 & 2, Barcelona, Spain

June 4–6: Rounds 3 & 4, Zandvoort, The Netherlands

June 25–27: Rounds 5 & 6, Valencia, Spain

July 9–11: Rounds 7 & 8, Silverstone, Great Britain

July 23–25: Rounds 9 & 10, Hockenheim, Germany

July 30–August 1: Rounds 11 & 12, Budapest, Hungary

August 27–29: Rounds 13 & 14, Spa-Francorchamps, Belgium

September 10–12: Rounds 15 & 16, Monza, Italy

A great sponsor team is involved with Michael's Formula BMW effort, which includes K&N Engineering, Eibach Springs, CTECH, Position One Motorsports, SSi Decals, Team ASE, Klotz, Orange County Convention Center, Orlando Convention & Visitors Bureau, Bell Racing, and Earl's Performance Plumbing.
Please visit Michael's website at www.mjlracing.com.