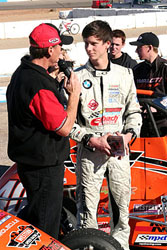 Laguna Beach, California—Michael Lewis sped into the 2010 race season by setting quick time at Tucson Raceway Park's fast 3/8-mile paved oval, on Friday, January 1, 2010, for the track's special USAC Ford Focus event. Michael and his Western Speed Ford Focus team started off strong as he and his teammate Cody Gerhardt qualified first and second respectively. "Kevin Gerhardt had both of our cars dialed in perfectly for our qualifying effort and all I had to do was hit my marks and our two cars ended up on top of the chart for qualifying," stated Michael.
USAC officials and the track promoter agreed to change the original program from a 30-lap feature event to two 20-lap features. In the first 20-lap feature Michael started 6th and got to the front quickly, winning the event. "This is a fast track and it was fun for me to be able to put the car anywhere I wanted and it kept going faster. Kevin gave me a perfect car that handled great all through the 20-lap feature," said Michael.
For the second 20-lap feature Michael again started 6th and after a frantic first few laps the field settled down and Michael fell in behind teammate Cody Gerhardt in third place. "My car was loose from the beginning so it was difficult to keep the car straight and charge to the front so I just settled in and held on for a third-place finish," added Michael.
The next few weeks will be very busy for Michael as he will move to Europe in preparation to race full time in the Formula BMW Europe series. "The Formula BMW Europe Collective Team Tests start the first week of March where we will be able to test two days at every track we will be visiting during the season," explained Michael. "I am excited about this opportunity to race in Europe not only for myself but for the sponsor team that will be coming on board."
Michael will stay busy both on and off the track as he will continue his freshman year collegiate education in an online program with California State University, Fullerton.
At the conclusion of the Formula BMW Europe season in early September, Michael will return home to Laguna Beach, California, and finish up the 2010 season participating in the remaining races on the USAC California Pavement Ford Focus schedule.
A great sponsor team is involved with Michael's USAC Focus effort, which includes K&N Engineering, Eibach Springs, CTECH, Position One Motorsports, SSi Decals, Team ASE, Klotz, Orange County Convention Center, Orlando Convention & Visitors Bureau, Bell Racing, Puma, and Earl's Performance Plumbing, along with Performance Trailer, Western Speed Racing, Weld Racing, Aurora Bearing Company, and Mettec.