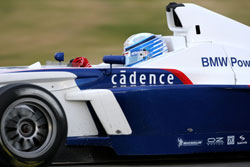 Laguna Beach, California (March 22, 2010) — The Formula BMW Europe teams brought their 17 drivers to the Barcelona, Spain, Circuit De Catalunya on Sunday, March 21st, for the second round of a series of Team Collective Tests in preparation for the 2010 season. Michael Lewis and his Eurointernational teammates Carlos Sainz Jr. and Daniil Kyvat came to Barcelona prepared and optimistic after a successful first Collective Test session two weeks ago at Monza in Italy.
After a full day of testing on Sunday, Michael posted the third fastest time in both the morning and afternoon sessions. At the conclusion of Sunday, Michael recorded the third fastest lap overall for that day's test session.
"My Eurointernational team engineer Nicola Sgotto had our cars perfect for this Barcelona test. All I had to do was go out and learn the track and then get down to business of running consistent lap times. I like this track and I look forward to coming back here for our first race of the season in May," exclaimed Michael.
For the Monday Collective Test, Michael set his sights on improving the excellent Sunday test times. The morning session began with the race cars on rain tires, so Michael fluctuated up and down the time chart. When the track dried the Eurointernational team placed slicks back on the car, and Michael ended the morning session P-4 on the time charts. The track stayed dry for most of the afternoon session and Michael picked up the pace and ended the afternoon session second on the time charts.
"I was very pleased with the performance of our Eurointernational drivers at the Barcelona Collective Test," said team owner Antonio Ferrari. "Michael kept his focus, worked hard, and had an excellent test. Now he knows what he can do here when we come back for the opening race in May."
Although the 2010 season is yet to start in May, Michael and his teammates have a very busy schedule as they will leave for Malaysia's Sepang International Circuit in Kuala Lumpur for testing at the end of this week, and they will make a guest appearance in the Formula BMW Asia series race that is held in conjunction with the Formula 1 Malaysia event in two weeks, April 2–4. Immediately upon returning from Malaysia Michael will head directly to Silverstone for the third in a series of the Formula BMW Europe Collective Tests, April 6 and 7.
Michael and Eurointernational thank the 2010 sponsor team, which includes K&N Engineering, Eibach Springs, SSi Decals, CTECH, Team ASE, Klotz, Earl's Performance Plumbing, Bell Helmets and Subè Sports.