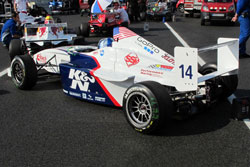 Laguna Beach, California (May 26, 2010) — On his inaugural visit to the legendary Hungaroring circuit in Budapest, Hungary, Michael Lewis got up to speed quickly at the Formula BMW Collective Test Session on Tuesday and Wednesday, May 25 and 26, by setting the fastest time at one of the four sessions.
Upon arrival at the Hungaroring track, Michael spent the first session on Tuesday morning to learn the track and later in the day recorded excellent lap times. For the second test session on Tuesday afternoon, Michael was ranked third on the time charts with a lap of 1:50.948.
"The Eurointernational team prepared the car perfectly and gave me great instruction as to how to approach learning the track and building speed," commented Michael. "I felt comfortable right away and late in the afternoon session I was able to record my best lap."
On Wednesday, all the teams and drivers were back on the track in force and Michael recorded the fastest lap of the morning session with a time of 1:50.309. The Hungaroring Collective Test ended Wednesday afternoon with Michael placing fifth overall with a lap time of 1:50.309, only .372 seconds behind Eurointernational teammate Daniil Kvyat, who set the fastest lap of the Test, with his other teammate Carlos Sainz Jr. a close second.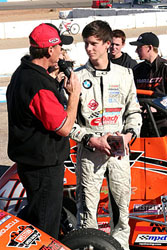 "For the first time being here I was pleased with my times. I know where I need to improve to get closer to my Eurointernational teammates on the time charts. Team owner Antonio Ferrari and my engineer Nicola Sgotto have been a big help to me and gave me a car that was perfect for the test," exclaimed Michael.
Michael's racing schedule is running full throttle now as he will participate in the last Formula BMW Collective Test of the season on June 1–2, in Hockenheim, Germany, quickly followed by Formula BMW Europe Rounds 3 and 4 on June 4–6, in Zandvoort, The Netherlands.
Michael and Team Eurointernational thank the 2010 sponsor team, which includes K&N Engineering, Eibach Springs, SSi Decals, CTECH, GoPro, Cometic Gasket, ASE, Klotz Synthetic Lubricants, AllInSports, Bell Helmets, Earl's Performance Plumbing and Subè Sports.