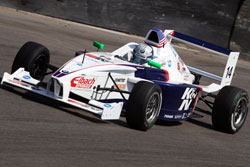 Zandvoort, The Netherlands (June 7, 2010) — Young American Michael Lewis brought high expectations for both he and Antonio Ferrari's Eurointernational team when they arrived at Circuit Park Zandvoort, in The Netherlands, for the Formula BMW Europe series Rounds 3 and 4, which took place on Sunday, June 6.
The race weekend began on a positive note with Michael recording an admirable qualifying effort that placed him sixth on the grid for Sunday's first race (Round 3) and fifth on the grid for the late afternoon race (Round 4).
The morning event was run in dry conditions, and Michael got an excellent start, quickly falling in line in fifth position. On lap two, Michael had an excursion into the sand that dropped him back, and he ultimately finished Round 3 in 9th position.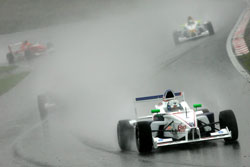 For Round 4, The Netherlands sky clouded up and rain fell, which required the use of the rain tires. "I was very much looking forward to this race because I was starting fifth and I knew I could get a good start, but the rain was going to make it very interesting," explained Michael. "My engineer Nicola Sgotto and my mechanic gave me a great car that was perfect for the wet conditions, then I charged straight to the front. By lap five, I was right on the tail of Robin Frijns, who was running in second at the time, then suddenly, without any warning upon the exit of a sweeping turn, the rearend felt light and I had a half spin. I was able to recover and get going again to finish the race running," in 10th position.
The Zandvoort Formula BMW Europe Rounds 3 and 4 were streamed live from the Circuit Park Zandvoort course, and Michael's Eurointernational Formula BMW received excellent television and public address mentions throughout the race as he made his way to the front in both events. Michael recorded the fourth fastest lap in Round 4 of 2:04:938 on lap five.
"Michael did very well in Round 4 and raced hard. In the rain, you cannot make a mistake, and that was the difference," added Antonio Ferrari, Eurointernational team owner.
"I learned a lot this weekend, and it was really a fun experience being here in Zandvoort at this famous track and special event," said Michael. "The stands were packed with race fans and I had a chance to talk with and meet many new fans. I was also able to make sure all of our team sponsor messages received excellent coverage."
Michael's next Formula BMW Europe race will be at the Valencia, Spain, street circuit on June 25–27, as the event is in conjunction with the Formula 1 race.
Michael and Team Eurointernational thank the 2010 sponsor team, which includes K&N Engineering, Eibach Springs, SSi Decals, CTECH, GoPro, Cometic Gasket, ASE, Klotz Synthetic Lubricants, AllInSports, Bell Helmets, Earl's Performance Plumbing, Subè Sports, and Calico Coatings.