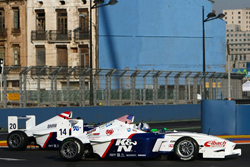 Valencia, Spain (June 26–27, 2010) — American driver Michael Lewis experienced mixed fortunes this past weekend as the Formula BMW Championship rolled into Valencia for Rounds 5 and 6.
Michael and his two Eurointernational teammates, Carlos Sainz Jr. and Daniil Kvyat, were eagerly anticipating the opportunity to tackle this challenging street circuit located in the heart of the Spanish city.
Free practice:
The race weekend started early on Friday when Michael took to the track for the early morning practice session.
"After a strong weekend at Zandvoort, I was very much looking forward to my first Valencia race weekend. Our practice session went well and it provided me with the opportunity to learn the track and pick up my reference points for qualifying and the races," commented Michael Lewis.
Michael finished in 10th position overall at the end of the morning's 25 minute practice session. He then turned his attention to the afternoon's qualifying session, which resulted in him lining up 16th on the grid.
Qualifying:
"My goal was to qualify well because it is so important in this series to start the race up front. I was disappointed to be starting Round 5 in 16th position and was aware that I had a tough race ahead of me to obtain a decent finishing position as overtaking is not common on this street circuit," said Michael.
Round 5 Race:
Lining up 16th on the grid, Michael made an impressive start off the line and passed four cars on the first lap to move up to 12th place. By lap 5 he was running in 8th position but in an overtaking move for 7th place, Michael went wide, lost his momentum and was eventually re-passed and finished the race 9th.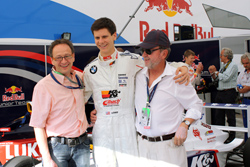 "I was pleased to make up seven places in the race and with the car handling well I was able to see my lap times improving as the race went on," added Michael.
Round 6 Race:
Following a strong performance in Saturday's race, there were high hopes for another solid performance in Sunday's Round 6 event. Michael lined up his Eurointernational car on the grid in 13th place and was looking forward to another good run up through the pack.
"As I sat on the grid preparing for the start I knew that I needed to pass as many cars as I could during the first couple of laps. When the red lights went out I got a really good launch and started passing cars one by one and in four corners I had progressed up to 9th position," explained Michael.
However, Michael's fortunes were about to change. He had his sights on the eighth-placed car but regrettably he was hit by his teammate Carlos Jr., which caused his car to spin around. Six cars re-passed him during this time, and as a result he crossed the finish line in 15th position.
"I was really disappointed to finish 15th after running in 8th place but it's racing and these things happen, so I'm going to put this race behind me, focus on the positives of my race in Round 5, and look ahead to the next round of the Formula BMW Championship, which will take place at Silverstone, England. We had a very good test at Silverstone earlier in the year and I am confident that we will have a car that is well suited for the high speeds of this famous circuit," concluded Michael.
Michael and the Eurointernational team will next compete in the Formula BMW Championship Rounds 7 and 8 at Silverstone, in England, in conjunction with the Formula 1 British Grand Prix.
About Michael Lewis:
Michael Lewis is a 19-year-old American racing driver with six years racing experience in a combination of karting, midget car racing, and single seater racing. In 2009, Michael competed in the Formula BMW Americas series and took the 2009 Formula BMW Americas Rookie Driver Championship. In 2010, Michael is competing in the Formula BMW Europe series, with selected guest appearances in the Formula BMW Pacific series, with the Eurointernational Team. For more information please visit www.mjlracing.com.
Michael and the Eurointernational Team wish to thank the following sponsors for their support in 2010:
K&N Engineering, Eibach Springs, SSi Decals, CTECH, GoPro, Cometic Gasket, ASE, Klotz Synthetic Lubricants, AllInSports, Bell Helmets, Earl's Performance Plumbing, Subè Sports, and Calico Coatings.