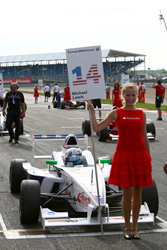 Silverstone, England (July 12, 2010) — American Formula BMW driver Michael Lewis claimed two top-10 finishes at this weekend's British Grand Prix at Silverstone, England.
Scoring a total of 14 points during Rounds 7 and 8 of the Formula BMW Championship means that rookie Michael Lewis has now scored top-10 finishes at every race weekend in the 2010 Championship to date.
Free Practice:
Michael's first weekend of racing at Silverstone started early on Friday morning when he and his Eurointernational team took to the newly configured circuit for the free practice session.
Michael, along with his two Eurointernational teammates Carlos Sainz Jr. and Daniil Kvyat, quickly adapted to the high-speed race track with Michael's times improving as the session went on. Michael eventually finished the free practice session in 10th position.
"We went out on old tires and I used the practice session to work on my reference points. The new configuration is fast and flowing so I used the free practice session to get comfortable with the car and circuit so that when it came time to qualify I could work on producing a good qualifying effort," commented Michael Lewis.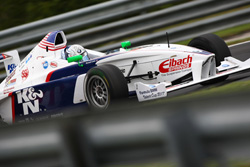 Qualifying:
Michael started the qualifying session strongly and was P-6 until the very end of the session when he slipped down the charts to P-9. However, because three of the field did not pass the technological regulations after qualifying, Michael would line up on the grid for Saturday's race in eighth position.
Round 7 Race:
"I got a great launch at the start of the race and quickly picked up a couple of positions within the first few corners. However, at the first chicane I got squeezed and lost some positions so I had to fight back hard to finish the race in 10th position. I was disappointed with my finishing position in Round 7 but the car was fast and I was pleased to be recording excellent lap times," added Michael.
Round 8 Race:
Round 8 of the Formula BMW Championship was scheduled to start after the completion of the British Grand Prix Formula 1 race. A big crowd of spectators had stayed to watch the 11-lap race, which saw Michael lining up on the grid in 10th position.
"I got another great start and at the end of the first lap I was in 8th position. I had been given a great car by team owner Antonio Ferrari and I settled in and started clicking off great lap times. By the 7th lap I had an opportunity to make a pass for 7th position but unfortunately could not make it stick and lost a position as a result meaning I finished the race in 9th position," commented Michael.
"It was a great experience for me to race at the world-famous Silverstone Circuit and I learned a lot during my first race weekend here. It was a great weekend for the Eurointernational team as my teammate Carlos Sainz Jr. won the second race," concluded Michael.
Michael now heads to Hockenheim, Germany, on July 24th for Rounds 9 and 10 of the Formula BMW Europe Championship.
Notes to editors
About Michael Lewis:
Michael Lewis is a 19-year-old American racing driver with six years racing experience in a combination of karting, Focus Midget car racing, and single seater racing.
In 2009, Michael competed in the Formula BMW Americas series and took the 2009 Formula BMW Americas Rookie Driver Championship.
In 2010, Michael competes in the Formula BMW Europe series, with selected guest appearances in the Formula BMW Pacific series, with the Eurointernational Team.
For more information please visit www.mjlracing.com.
Michael and Team Eurointernational thank the 2010 sponsor team, which includes K&N Engineering, Eibach Springs, SSi Decals, CTECH, GoPro, Cometic Gasket, ASE, Klotz Synthetic Lubricants, AllInSports, Bell Helmets, Earl's Performance Plumbing, Subè Sports and Calico Coatings.