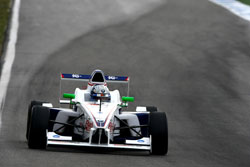 Hockenheim, Germany – July 23rd – 25th 2010 — Changeable track conditions marked American Formula BMW driver Michael Lewis' first visit to the historic Hockenheim circuit this weekend.
Rookie Michael Lewis was looking forward to Rounds 9 and 10 of the 2010 Formula BMW Europe Series that were to be held at this challenging circuit: "I have heard many stories from drivers about Hockenheim and I was excited about my first opportunity to race at such a historic racing circuit. My Eurointernational team always prepare my car well so I looking forward to the challenge of learning the track and getting up to speed quickly," said Michael Lewis.
Free Practice:
The Formula BMW cars took to the track early on Friday morning under a dark sky with heavy rain showers falling during the entire 25 minute session. At the beginning of the practice session Michael was running consistently in P6, but unfortunately he slipped down the timings sheet and ended the session P11.
"I was trying hard to get my wet line working and as the session went on I made a mistake towards the end of the session and was unable to post a quick lap. I did learn where I could make up some time in the fast sector and felt confident about qualifying later in the day," adds Michael Lewis.
Qualifying:
There were only three hours from the end of the Free Practice Session until the 30 minute official Qualifying Session on Friday afternoon. During this three hour period there were intermittent rain showers and some blue sky appearing for the first time during the weekend.
"My engineer Nicola Sgotto explained that it would be best to go out at the beginning of the qualifying session with "wet" tires, set a time and then come in and change to the "slick" tires because later in the session there would be a dry groove. So this is what we did," says Michael Lewis.
Unfortunately for Michael as the track began to dry he was unable to put a strong lap together with the dry tires and his qualifying time saw him end the session in P14. Michael was to finally line up 16th on the grid as during the qualifying run he placed all four wheels of his Formula BMW race car off the pavement and was penalized two grid positions for this rules infraction.
Round 9 Race: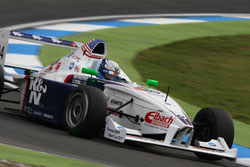 Round 9 of the Formula BMW Europe Championship took place early on Saturday morning on a wet track. As the cars came to the grid the track began to dry significantly and a number of the teams (including Michael) made a last minute decision to switch from wet to dry tires.
"When the red lights went out I got a great launch and headed for the first turn. I wanted to overtake as many cars as I could at the beginning when everyone was bunched up and I dove in to turn 1 underneath the car beside me but hit a slick spot and spun. I quickly regained control and started to chase down the pack picking up speed each lap as I became more comfortable with the changeable conditions as the race progressed. On the last lap I recorded my best lap time so I was pleased with the progress I made during the race," adds Michael.
Michael finished Round 9 in 14th position.
Round 10 Race:
On Sunday the sun finally came out and the cars took to a dry track for Round 10 of the Formula BMW Europe Championship with Michael Lewis lining up 15th on the grid.
"At the start I knew it was important to make up as many positions as I could so I concentrated on getting a good launch off the starting grid. I was able to advance on the first lap to P12 and fell in line with a group of cars and began to concentrate on making passes," commented Michael.
On lap 10 Michael made an attempt for P10 but slipped wide after making the pass and lost two positions. On the final lap he made a strong overtaking maneuver and finished the race in P11.
"Michael is doing well in the races, making some great overtaking maneuvers. He now needs to work on his qualifying effort so he can apply his race craft from a much better starting grid position and that is what we are going to be working on at Budapest," states Eurointernational team owner, Antonio Ferrari.
Michael Lewis now heads to Budapest on July 31st for Rounds 11 and 12 of the Formula BMW Championship.
Michael and Team Eurointernational thank the 2010 sponsor team, which includes K&N Engineering, Eibach Springs, SSi Decals, CTECH, GoPro, Cometic Gasket, ASE, Klotz Synthetic Lubricants, AllInSports, Bell Helmets, Earl's Performance Plumbing, Subè Sports and Calico Coatings.