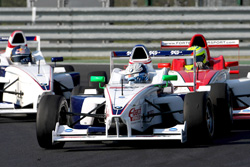 Budapest, Hungary – July 30th – August 1st 2010

American Formula BMW driver Michael Lewis had a weekend of mixed results during his first experience of racing at the Hungaroring circuit in Budapest, Hungary.
Lewis had tested at the circuit in May and was keen to return to the track for Rounds 11 and 12 of the Formula BMW Europe Series. "During the Formula BMW Europe Collective Test session at Hungary prior to the season I tested well and recorded the fifth fastest time of the two-day Collective Test session. I was looking forward to the weekend and working with my team to develop competitive lap times," he commented.
Free Practice:
The Formula BMW cars took to the track early on Friday morning for the 30-minute free practice session. Lewis started the session well, consistently recording lap times in the top six. However, as the session reached its final stages, his pace dropped slightly and he finished P14 overall.
Qualifying:
The Formula BMW Europe drivers returned to the track for a 25-minute qualifying session on Friday afternoon, which would set the grid for Saturday's Round 11 and Sunday's Round 12. As the session progressed, Lewis' lap times continued to tumble, consistently setting times in the low one minute 51 seconds. Unfortunately, Lewis was unable to string together a perfect lap and with the final lap times seeing the entire grid separated by just over one second, Lewis' best lap time saw him finish the qualifying session in P14.
"I knew that starting so far back on the grid was going to make it difficult for a good result but I also knew that my Eurointernational team and engineer Nicola Sgotto would give me a good car so I felt positive about the race," Lewis added.
Round 11 Race:
As the red lights went off on Saturday for Round 11 of the Formula BMW Europe race, Lewis got caught up amongst a number of other cars who were all trying to make up as many positions as possible on the opening lap. Lewis ended up going wide on a turn and lost two positions, which saw him stuck at the back of the field and unable to find space to pass. Despite running at the back of the pack Lewis continued to set fast laps, recording his fastest lap on lap four (a 1:51:501, which was less than 0.5 seconds slower than the fastest lap of the race set by Robin Frijns). "I had some competitive lap times during the race but the mistake cost me a lot of ground and I was disappointed to finish where I did," Lewis commented. He ended up finishing Round 11 in the 15th position.
Round 12 Race:
The Formula BMW Europe cars took to the track early on Sunday morning for Round 12 with Lewis lining up in 14th position on the grid.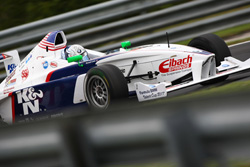 "My goal was to try to make up as many positions on the first lap as possible. Turn one at the Hungaroring is a right hand turn and I made the decision to go to the left (outside) with the aim of gaining some positions as I expected most of the drivers to take the inside. This is exactly what happened and I was able to make up two positions at the start and after three laps I had worked my way from 14th up to 10th," Lewis said.
"I was putting pressure on the driver ahead of me for 9th position when I made a slight mistake entering turn one and was passed by two cars that had been pressuring me," added Lewis. He eventually finished Round 12 in 11th position.
"I want to thank all the members of Antonio Ferrari's Eurointernational team as they worked hard all weekend to give me a great car. I was able to turn some good laps over the course of the sessions and during the races. I realize that in order to get better race results that I must improve my qualifying which is what I will be focusing on at the next race. I tested well at Spa so I am looking forward to Rounds 13 and 14 coming up in three weeks time," commented Lewis.
Michael Lewis now heads to Spa on August 28th for Rounds 13 and 14 of the Formula BMW Championship.
Michael and Team Eurointernational thank the 2010 sponsor team, which includes K&N Engineering, Eibach Springs, SSi Decals, CTECH, GoPro, Cometic Gasket, ASE, Klotz Synthetic Lubricants, AllInSports, Bell Helmets, Earl's Performance Plumbing, Subè Sports and Calico Coatings.