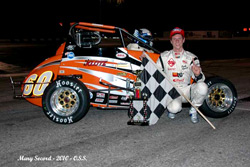 Laguna Beach, California (August 16, 2010) — Michael Lewis returned home to California from a six-month stay in Europe while competing in the Formula BMW Championship to earn a convincing 40-lap main event win driving the Western Speed Ford Focus midget Saturday evening at San Bernardino's Orange Show Speedway.
"It really felt good to be back in the number 60 Gerhardt Western Speed Ford Focus midget and have some fun at the tight 1/4-mile paved track at the Orange Show. Kevin and Kent Gerhardt have a knack of always giving me a good car and they were spot on at the Orange Show," said Michael Lewis.
Michael began the evening by qualifying second to his teammate Cody Gerhardt by a difference of only .044 of a second, which put both Michael and Cody in the four-lap Trophy Dash. Michael started the Trophy Dash inside the second row and made a quick move at the start to squeeze into second. On the second lap he passed the leader and won the four-lap Dash. "I made a great start and I could tell my car was good. In these short races you have to get with it right away if you want to win so I pushed hard and it was fun winning my first ever Trophy Dash," exclaimed Michael.
The next challenge for Michael and Cody would be the 40-lap main event. Michael started the feature race in fifth position inside the third row. Usually the inside starting position is the preferred place to be at this particular track but that was not the case on Saturday night. When the green flag waved to start the feature event there was a mad scramble for positions with the top seven cars. Michael eventually fell in line to fifth position and began the methodical process of passing cars making his way to the front. During this process the leader Bobby Runyan built a straightaway lead and when Michael eventually got to second place the next challenge was to run down the leader, which he did. On lap 29 Michael took the lead and built a comfortable margin and saw the checkered flag wave on lap 40 for his first Ford Focus Midget win of the 2010 season.
"It was great getting a win at the Orange Show Speedway in front of an enthusiastic crowd that included my grandmother," said Michael. "I must thank my great sponsor team that includes K&N Engineering, Eibach Springs, SSi Decals, CTECH Cabinets, GoPro cameras, Cometic Gasket, ASE, Klotz Synthetic Lubricants, AllInSports, Bell Helmets, Earl's Performance Plumbing, Subè Sports, and Calico Coatings. Kent and Kevin Gerhardt gave me a car that was set-up to win so they made my job easy."
Michael Lewis will compete in one more USAC Western States Ford Focus race next weekend at Roseville, California, before he heads back to Europe to complete the 2010 Formula BMW Europe season with a race at Belgium's famous Spa Circuit and the final race event at Monza, Italy, in September. After the final two Formula BMW Championship events, Michael will return to California and complete the 2010 season racing with the Gerhardt Western Speed Ford Focus team.