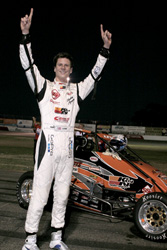 Laguna Beach, California (August 23, 2010) — Michael Lewis went to Roseville, California's All American Speedway on Saturday night, August 21, for the first time with high expectations after his dominating performance the previous week at the Orange Show Speedway.
Michael and his teammate Cody Gerhardt kicked it into high gear by being the fastest in the two practice sessions as both drivers quickly adapted to the fast 1/3-mile paved oval. Michael qualified 2nd, which earned him an inside third row starting position for the 30-lap main event as the top six qualifiers are inverted for the feature event.
"Kevin and Kent Gerhardt did a great job getting both my car and Cody's car dialed in for the tricky Roseville track. It makes my job much easier when all I have to do is concentrate on learning the track and going fast because the Western Speed Focus midgets are always quick from the get go," exclaimed Michael Lewis.
Michael started 5th in the eight-lap heat race and finished 2nd, which secured his starting spot in the main event. Then Michael participated in the four-lap Trophy Dash featuring the four fastest qualifiers. Michael started inside the second row and got a great start and came out of turn two in second place. He passed for the lead on the next lap thereby winning his second trophy dash in two weeks.
The final event of the evening for the Focus Midgets was the 30-lap feature starting 14 cars. Michael began the feature event inside the third row and by the end of the first lap he moved up to fourth position. He then began the methodical process of getting to the front and he took the lead on lap 12 and cruised on to the win by five car lengths. This was Michael's second USAC Ford Focus Midget feature in a row.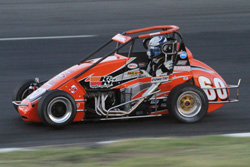 "The USAC Western Ford Focus Midget program features a strong group of drivers and good teams so I knew that I had my work cut out for me and I had to strike quick to have a chance for a feature win," added Michael. "I was fortunate to get a great start and I could tell right away that my car was good. I installed my Go Pro camera on the car looking forward so I know there are some great images, which will soon be uploaded on my website, of the early stages of the race. I am so fortunate to have Kevin and Kent Gerhardt, who have a special knack of getting the car right race after race, helping me and giving me a car night after night that can win. It makes me want to try even harder for a good finish."
On Monday, August 23, Michael heads back to California State University, Fullerton to start his sophomore year, then on Tuesday evening he will fly to Europe for another two rounds of Formula BMW Europe racing at the famous Spa Circuit in Belgium. Michael will conclude his Formula BMW Europe race season the weekend of September 11th and 12th at Monza, Italy. He will finish out the 2010 season racing with the Western Speed team and will start the process of winter testing and preparing for 2011.
Michael thanks his important sponsor team, which includes K&N Engineering, Eibach Springs, SSi Decals, CTECH Cabinets, GoPro cameras, Cometic Gasket, ASE, Klotz Synthetic Lubricants, AllInSports, Bell Helmets, Earl's Performance Plumbing, Subè Sports, and Calico Coatings.