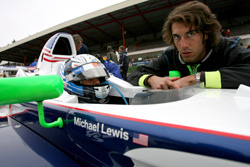 Spa, Belgium (August 30, 2010) — American Formula BMW driver Michael Lewis secured two season-best qualifying positions during his first experience of racing at the Spa-Francorchamps circuit in Belgium (P3 and P4). However, two racing incidents meant that Michael was unable to convert these into strong race finishes.
Free Practice:
Michael's first experience of racing at Spa-Francorchamps started early on Friday morning, August 27, under heavy rain. He and his Eurointernational team set the car up for these tricky conditions and he took to the track. The session was incident-filled, including one red flag period, but despite these difficult conditions Michael posted a competitive time of 3:03:331, which placed him in fourth starting position at the end of the session.
"It is notoriously difficult to gauge weather conditions at Spa, and Friday's session was no different," said Michael Lewis. "It was dry just prior to the session and then minutes before we headed onto the track, heavy rain began to fall. We chose to use a set of slightly used rain tires to last the 25-minute session, and to get an accurate read for the track. The conditions were tricky but I was very pleased with the results."
Qualifying:
The rain showed no sign of letting up as the qualifying session started on Friday afternoon. Utilizing the data collected from the morning's session, Michael took to the track and posted a number of strong lap times. Michael ended the session with his best qualifying results of the season—P4 for Round 13 and P3 for Round 14.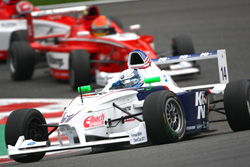 "I was very pleased with my qualifying performance. While I have had a good race pace in the last few races I knew that my goal for the last four rounds of the season was to improve my qualifying, which is what I have achieved today. I want to thank all the members of Antonio Ferrari's Eurointernational team as they have given me a fantastic car this weekend," added Michael.
Round 13 Race:
Michael lined up his car on the second row of a dry grid. As the lights went out, Michael got a great launch down the main straight and was up into third position. Upon arriving at the first corner, in an overtaking move for second place, Michael moved inside of his teammate, Carlos Sainz Jr., and both cars made contact. Michael suffered heavy damage to the front wing and suspension and was forced to retire from the race.
"I got a great launch at the start of the race and quickly moved into 3rd position. However, in the first corner I braked quite late and my teammate and I made contact with each other. It was unfortunate for both of us, as we were both planning on a great result. The goal of a podium result vanished, however, I will put this race behind me and focus on Sunday's race where I will start from P3," said Michael.
Round 14 Race:
Round 14 of the Formula BMW Championship saw Michael lining up in third position on the grid. After another great start, Michael held third position through to the end of the long back-straight with his Eurointernational teammate, Carlos Sainz Jr. in tow.
As both cars entered the braking zone at the end of the straight, Robin Frijns in his Josef Kaufmann Racing car, forced both Michael and Carlos Sainz Jr. off into the grass. Fortunately, Michael was able to continue and rejoined the track in the middle of the pack and eventually finished the race in 11th position.
"It has been a rollercoaster of a weekend. I achieved two fantastic qualifying positions and was looking to secure two podium finishes from my first visit to Spa. However, two racing incidents instead left me with a DNF and a P11, which is certainly disappointing. But this is racing and all I can do now is take the positives from this weekend and look ahead to the final two races of the season at Monza," commented Michael.
Next up for Michael is his first stock car race, which will take place on Saturday, September 4, at Toyota Speedway at Irwindale. The following weekend, Michael will visit Monza, Italy, for Rounds 15 and 16 on September 11 and 12, for the final two rounds of the Formula BMW Europe Championship.
Michael and Team Eurointernational thank the 2010 sponsor team, which includes K&N Engineering, Eibach Springs, SSi Decals, CTECH, GoPro, Cometic Gasket, ASE, Klotz Synthetic Lubricants, AllInSports, Bell Helmets, Earl's Performance Plumbing, Subè Sports and Calico Coatings.