Laguna Beach, California (September 6, 2010) — Having plenty of experience and several wins in open wheel race cars, Michael Lewis decided to jump into a race car with a roof and fenders and it quickly met to his liking.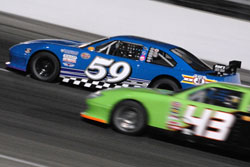 Michael qualified second in the #59 S2 stock car for High Point Racing and team owner Tim Huddleston at Toyota Speedway at Irwindale, in California, on Saturday, September 4. However, before the main event, Dave Busby who set fast time by only one-hundredth of a second over Michael, drew a two-car invert, so Michael began the race on the pole position.
At the start of the 20-lap event, Michael was in a battle for the lead and settled into third position. He quickly found his way on the race track using the car's bumpers and fenders and was in a battle for second position, which he claimed on lap 17 and finished on the podium in second at the conclusion of the event.
"That was a great event and I really enjoyed racing with Dylan Lupton and Andrew Porter," said Michael. "I want to thank Tim Huddleston of High Point Racing for giving me this opportunity to race his stock car and my mechanic Joe who was a huge help and gave me a terrific setup. I also need to thank Jeff Schrader who builds these S2 stock cars. This car was a blast to drive."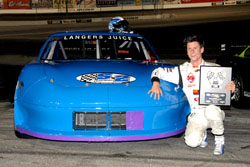 Michael has already returned to Europe to compete in the final two rounds of the Formula BMW Championship in Monza, Italy, this weekend. After that, he'll return to California to continue his studies at California State University, Fullerton, and his next race will be in the Western Speed Ford Focus Midget on October 9, at Orange Show Speedway in San Bernardino, California.
Michael would also like to thank his 2010 sponsor team, which includes K&N Engineering, Eibach Springs, SSi Decals, CTECH, GoPro, Cometic Gasket, ASE, Klotz Synthetic Lubricants, AllInSports, Bell Helmets, Earl's Performance Plumbing, Subè Sports and Calico Coatings.