Laguna Beach, California (January 20, 2011) — Michael Lewis has been signed by the PREMA Powerteam as the team welcomes an American driver back into its lineup for the 2011 Italian Formula 3 Championship. Michael has already been impressive in the winter tests with the team directed by Angelo Rosin at Franciacorta, Mugello, Barcelona and Valencia.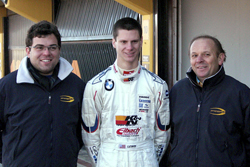 In 2009, Michael competed in the Formula BMW Americas championship, finishing the season in 4th and earning the coveted rookie championship title, while he proved to be a top-notch contender in the Formula BMW Europe series last season. In the next few weeks, Michael will continue to familiarize himself with the entire PREMA team, the Formula 3 Dallara and with the Italian tracks of the 2011 schedule.
"Once again, PREMA will bring some more international flavor to the Italian F.3 Championship," said Angelo Rosin, Team Principal. "We're proud to have an American racer choosing us for his next steps in motorsports. So far, Lewis showed an impressive car controlling ability while retaining huge room for further improvement. He rapidly adapted to the way we work, and he showed he learns really quickly. I think he'll be running among the leading pack of the series easily."
"I am very excited to be driving for PREMA this season in the Italian Formula 3 championship," added Michael. "We have been working very well together in pre-season testing, and as a result, everything fits naturally. PREMA has given me a great opportunity, and I look forward to a great season working together."
Now that Michael has received the good news from the PREMA Powerteam, he is proud to announce that returning to his 2011 sponsor lineup from 2010 is K&N, Eibach, GoPro, and Bell. More sponsor announcements will be made soon.
Michael will supplement his Formula 3 Italia race events with appearances in a Late Model stock car this summer at Toyota Speedway at Irwindale, in Irwindale, California.
The 2011 Formula 3 Italia schedule is:
May 15 Franciacorta
June 5 Misano
July 17 Imola
August 7 Spa-Francorchamps
September 4 Adria
September 18 Vallelunga
October 2 Mugello
October 16 Monza