Laguna Beach, California (December 21, 2010) — Michael Lewis completed a very successful four days of testing with the PREMA Powerteam Formula 3 Italia program in Spain at the Barcelona and Valencia race tracks this past week. In addition to testing in Spain, Michael's test series also allowed him to gain track time testing at Autodromo Riccardo Paletti near Varano, Italy; Autodromo di Franciacorta circuit in Brescia, Italy; and the Mugello circuit, also in Italy.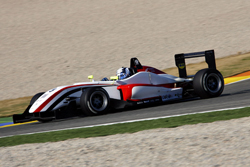 Michael has competed the past two years in Formula BMW and won the FBMW Americas Rookie Championship in 2009. He also raced in the FBMW Pacific and Europe series this season earning nine podium appearances. As a result, he is stepping up to the next level of single seat series competition.
"I have been very fortunate to be able to have the opportunity to experience seven days of testing in a Formula 3 Italia car so far of which six days have been with the PREMA Powerteam. I am learning about the power and grip aspects of the Formula 3 car and it has been a very enjoyable experience to work with the engineers at PREMA these past four days while testing in Spain," explained Michael Lewis.
At the Barcelona test sessions on Monday, December 13, and Tuesday, December 14, Michael recorded excellent times claiming the second fastest time on December 13, with a 1'42″.00. On the next day, Michael improved his time and recorded the fast time for the Dallara-FPT cars with a 1'41″.5 effort.
The PREMA Powerteam and Michael then traveled to Valencia for another two days of testing the Italian Formula 3 car. At Valencia there was a strong contingent of Formula 3 England teams and drivers that participated in the test session. On Thursday, December 16, Michael recorded the fastest Dallara-FPT (Formula 3 Italia) time of 1'30″145, which ranked him 11th overall of the 19 drivers that were testing, with 16 driving Formula 3 British configured cars. Michael improved his time and ranking among all the drivers during Friday's Valencia test session and was again the quickest of the Formula 3 Italia cars.
"Michael is learning about the rigors of driving a Formula 3 car and is showing improvement," said René Rosin, PREMA Powerteam Team Manager.
Michael Lewis is a student at California State University, Fullerton, and plans to compete in the Formula 3 Italia series in 2011. In addition to his Formula 3 Italia racing effort, he plans to participate in a Late Model stock car program at Toyota Speedway at Irwindale and select USAC midget races.
Michael appreciates the help of his 2010 sponsor team, which includes K&N Engineering, Eibach Springs, SSi Decals, CTECH, GoPro, Cometic Gasket, ASE, Klotz Synthetic Lubricants, AllInSports, Bell Helmets, Earl's Performance Plumbing, Subè Sports and Calico Coatings.