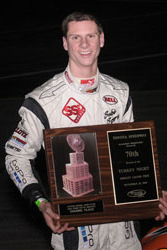 Laguna Beach, California — Michael Lewis's Ford Focus Midget career came to a conclusion on a high note on Thursday, November 25, as he earned a second-place finish during the 70th annual Turkey Night Grand Prix, at Toyota Speedway at Irwindale, driving the Western Speed #60 Ford Focus Midget tuned by Kevin and Kent Gerhardt.
Michael and teammate Cody Gerhardt were on top of the charts during the three timed "official" USAC practice sessions Thursday afternoon. Michael qualified second in the 33-car field of Ford Focus Midgets, which earned him the 5th-place starting position for the 40-lap Ford Focus main event as USAC inverts the top-six qualifiers for the race, but ended up being placed in sixth to start the race.
"Kevin and Kent Gerhardt always have given me one great Focus Midget to drive and tonight was no exception," stated Michael Lewis. "It is hard to pass here at Toyota Speedway at Irwindale, so I knew I had my work cut out for me. It was going to be a long race but I felt confident that I could get to the front quickly."
At the wave of the green flag, Michael began methodically passing cars. During the first part of the race, numerous yellow flags waved along with two red flag stops due to multiple car incidents. Then USAC officials decided to shorten the race to 30 laps because of time constraints. Therefore, time ran out for Michael to compete for the win and he finished second as the checkered flag waved.
"My goal was to win this race for the Gerhardt Western Speed team and we came close, but unfortunately not close enough," added Michael. "I had a great time the last two years racing with my teammate Cody Gerhardt and being a part of the Western Speed program. I learned a lot and I am grateful for the opportunity provided by the Gerhardt family to be a part of their USAC Ford Focus program."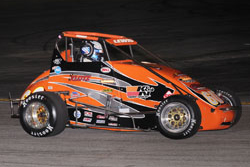 Michael raced in the USAC Western Pavement Ford Focus Midget series on a limited basis in 2010, only competing in four events where he won two events and recorded second- and fourth-place finishes in the other two races.
On December 12th, Michael will travel to Barcelona and Valencia, Spain, for four days of Formula 3 Italia testing with the PREMA Powerteam. After this four-day test program a decision will be made as to where Michael will race in 2011, which will most likely be in the competitive Formula 3 Italia series. Michael also has plans to supplement his Italian Formula 3 program with oval racing that will include late model events as well as selected USAC midget pavement races. Michael will continue his college coursework at California State University, Fullerton, on an online basis for the spring semester. Michael is currently a sophomore majoring in economics and business.
Michael extends his sincere appreciation to his terrific sponsor lineup for 2010, which includes K&N Engineering, Eibach Springs, SSi Decals, CTECH Cabinets, GoPro cameras, Cometic Gasket, ASE, Klotz Synthetic Lubricants, AllInSports, Bell Helmets, Earl's Performance Plumbing, Subè Sports, and Calico Coatings.