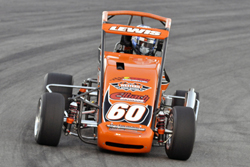 Laguna Beach, California (October 11, 2010) — Western Speed Ford Focus driver Michael Lewis has been on a roll this season with his limited appearances in the competitive USAC Western Pavement Ford Focus series. Michael had a two race win streak going and was looking to make it "three in a row" at the Orange Show Speedway in San Bernardino on Saturday night, October 9.
"As always Kevin and Kent Gerhardt had the two Western Speed Ford Focus midgets fast from the get go," exclaimed Michael Lewis. "Both Cody and I were on top of the charts for all three practice sessions as the cars were lightning quick."
Even though Michael had to wait to qualify last, he was not deterred while his teammate Cody Gerhardt sat on top of the charts with a strong qualifying effort. Once Michael hit the track, he also made a strong qualifying effort and recorded quick time for the evening of 13.083 over a strong 16-car field of Ford Focus entrants. Because USAC inverts the top six qualifiers, Michael was scheduled to start the 40-lap Ford Focus feature event in sixth position, which is outside the third row.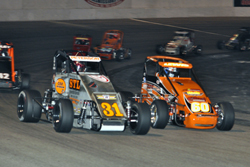 "My plan was to get to the front as quickly as I could when the green flag waved but starting on the outside can at times work against you, which it did for me," said Michael. "The cars in the row ahead of me did not move forward but the cars on the inside row did so I lost two spots at the start and went back to eighth place and had to fight hard to reclaim ground. As the race progressed I moved back up to fourth behind my teammate Cody Gerhardt. On the white flag lap Cody dove underneath the second place car and I tried to squeeze in to get a podium finish but missed the pass by a bumper and ended up fourth for the night."
This will be the last Ford Focus event for Michael Lewis until the final event of the season at Toyota Speedway at Irwindale on Thanksgiving evening. In two weeks Michael will travel to Italy to participate in a two-day Formula 3 Italia test session with the PREMA Powerteam at the Varano (Parma) and Mugello tracks. "I am excited about this test session opportunity with the PREMA team and to learn more about the rigors of Formula 3 Italia racing. Off-season testing is important and I look forward to adapting to the bigger more powerful Formula 3 cars and to work with the PREMA team engineers," said Michael.
Michael extends his sincere appreciation to his terrific sponsor lineup for 2010, which includes K&N Engineering, Eibach Springs, SSi Decals, CTECH Cabinets, GoPro cameras, Cometic Gasket, ASE, Klotz Synthetic Lubricants, AllInSports, Bell Helmets, Earl's Performance Plumbing, Subè Sports, and Calico Coatings.