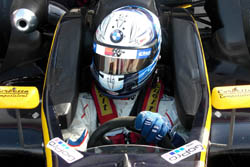 Laguna Beach, California (September 20, 2010) — After a strong finish at the concluding Formula BMW Europe events September 11 and 12, Michael Lewis continued to challenge himself, this time during a one-day Formula 3 Italia test, on Tuesday, September 14.
Michael ended his 2010 Formula BMW campaign on a positive note with a strong effort at Monza that included a 5th place finish in the Saturday race and a great effort on Sunday until a crash eliminated him from competition. "I enjoyed my time in Formula BMW and learned a lot about racing and what it takes to be competitive in the European racing scene," said Michael. "This opportunity to test in a Dallara Formula 3 car was very important to me to gain firsthand knowledge about driving a F3 car, which I hope to pursue next season."
The Formula 3 test session at Autodromo Riccardo Paletti, in Varano, Italy, was arranged by Giacomo Ricci, who is helping Michael as his driver coach. "Michael quickly adapted to the power, weight and down force of the Italian Formula 3 car on the tight Autodromo Riccardo Paletti circuit," explained Giacomo. "We were able to use the Go Pro camera mounted just behind the driver, which gave us excellent information as to how Michael was attacking the track. The team, engineer and Michael worked well together and toward the end of the day Michael became much more familiar with the car and turned some competitive lap times. It was a good test for Michael and now he knows what a F3 car is all about."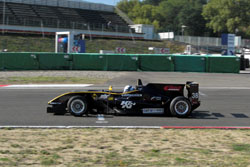 "I really enjoyed the feel of the Formula 3 car, which has quite a power difference from what I have been used to with the Formula BMW car," said Michael. "It is a fun car to drive and I look forward to working out an arrangement for the coming season to participate in the Italian Formula 3 Championship."
Immediately after the test session last Tuesday, Michael flew back to California to continue his studies at California State University, Fullerton, where he is majoring in business. In addition to taking college courses, Michael will also compete in the USAC Ford Focus series and Late Model stock car races at Toyota Speedway at Irwindale. Plans are being developed for Michael to return to Italy to compete in the Formula 3 Italia series in 2011.
Michael appreciates the help of his 2010 sponsor team, which includes K&N Engineering, Eibach Springs, SSi Decals, CTECH, GoPro, Cometic Gasket, ASE, Klotz Synthetic Lubricants, AllInSports, Bell Helmets, Earl's Performance Plumbing, Subè Sports and Calico Coatings.