Laguna Beach, California (March 7, 2011) — K&N Engineering, a leading manufacturer of reusable air filters, air intake systems and oil filters for race and performance applications worldwide, rejoins the Michael Lewis sponsor team for his 2011 Formula 3 Italia season.
"K&N Engineering is known around the world for providing high technology air filtration systems for racing and high-performance applications. We are very pleased to again be involved with Michael Lewis and his Formula 3 Italia program, which will allow our K&N brand to be showcased in a very competitive series. At K&N we see the value of having our brand represented on a worldwide basis," explained Steve Williams, vice president of research and development.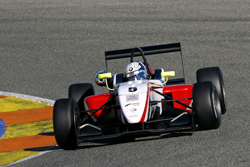 "Working with the K&N marketing team has been a very rewarding experience the past two years," added Michael Lewis. "Tony Yorkman and Steve Williams have been very supportive of my racing programs and it is an honor to be a part of their K&N marketing team. With the cooperation of the Formula 3 Italia PREMA Powerteam, we will offer K&N valuable marketing exposure during the 16-race season. Our preseason tests are going well and I look forward to again representing K&N Engineering this season."
Michael and the PREMA Powerteam are preparing for the first Formula 3 Italia race of 2011, which will take place May 15 in Franciacorta, Italy.
About K&N Engineering: Located in Riverside, California, K&N Engineering is the inventor and leading innovator of reusable cotton gauze filter technology for automotive applications. What began as a family run business over 40 years ago, K&N Engineering has grown to a truly global company with offices in the United Kingdom and the Netherlands, and continues to exist as a family owned business.
Today, K&N exists as both the sales and brand leader for reusable performance filters, and maintains a stocking catalog of over 3,500 part numbers, including an extensive line of both factory replacement drop-in filters, FIPK (Fuel Injection Performance Kit) applications, and its line of innovative Performance Gold oil filters.
About Michael Lewis: 20-year-old American Michael Lewis has competed in racing for seven years in a combination of karting, midget car racing and road racing. In 2010, Michael competed in the Formula BMW Europe series, and in 2009, earned the coveted Formula BMW Americas Rookie Driver Championship. Michael will compete in the Formula 3 Italia series for the PREMA Powerteam in 2011.