Laguna Beach, California — (March 14, 2011) American Michael Lewis's 2011 race season is well underway as he is already hard at work with an aggressive preseason test program with the PREMA Powerteam. In preparation for the upcoming Formula 3 Italia season, Michael and the team just completed three days of testing at two tracks.
Michael and his two PREMA Powerteam teammates, Andrea Roda and Raffaele Marciello, tested Tuesday and Wednesday, March 8 and 9, at the famous Imola circuit. Even though temperatures at the track were extremely cold the conditions remained dry, which offered Michael the opportunity to run considerable kilometers and build up speed.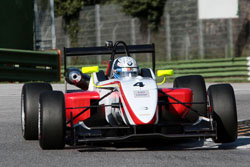 During the morning session on Tuesday Michael recorded a time of 1:42.763, which ranked him third on the Marzi Sport time chart. On Wednesday Michael ended up sixth overall with a time of 1:41.516.
"This was my first time at Imola so I had a lot to learn," explained Michael Lewis. "My PREMA engineer gave me a really good set-up so I was pleased with my progress. My teammates are fast so I know we have the set-up to be good here and I look forward to continuing to work hard and making the necessary improvements necessary to get my lap times where they need to be."
After the two days at Imola the PREMA Powerteam traveled to Vallelunga for another day of preseason testing on Friday, March 11. Michael immediately adapted to the Vallelunga circuit and began running competitive lap times in both the morning and afternoon sessions. At the end of the day Michael recorded the second fastest lap of the day among the Formula 3 Italia drivers in attendance with a time of 1:29.5, just two tenths off of driver Edoardo Liberati who completed the fastest lap of 1:29.3.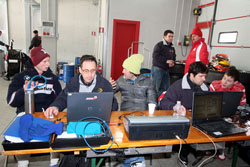 "This was also my first visit to Vallelunga I really enjoyed the track with the sweeping high speed corners," described Michael. "The PREMA engineer Fabio Zilio, mechanic Marco Sbabo and I worked well together and by the end of the day they had the car prepared to go fast and I was able to record a respectable time."
"Michael is learning what it takes to build speed in Formula 3 Italia," observed Rene Rosin, PREMA Powerteam team manager. "He is making excellent progress even though he's had a limited amount of time in a Formula 3 car. He has work to do and we look forward to working with Michael during the remainder of our preseason test program."
The opening race for the 2011 Formula 3 Italia series is May 14–15, at Franciacorta Circuit. There are eight race weekends and sixteen race events, which comprise the 2011 Formula 3 Italia Championship. Michael Lewis now has two years of single seat race car experience having competed in the Formula BMW Americas, where he earned the coveted Formula BMW Americas Rookie Championship in 2009, and Formula BMW Europe series in 2010.
Michael's current sponsor lineup for 2011 includes Eibach Springs, K&N Engineering, GoPro, Klotz Synthetic Lubricants, Cometic Gasket, Bell Helmets and Subè Sports.