Laguna Beach, California (March 24, 2011) — Michael Lewis quickly adapted to Italy's Mugello Circuit during the recent Formula 3 Italia collective test session, and set fast time during both days of testing on Tuesday and Wednesday, March 22 and 23. In fact, Michael's time of 1:38.989 earned him the distinction of the only Formula 3 Italia driver during testing to break the 1:39 barrier.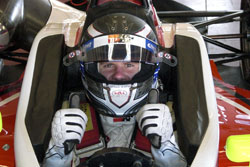 The fast times can be attributed to several factors including the weather for the test session, which was conducive to excellent lap times, and the Mugello Circuit was recently renovated with a new track surface, which Michael described the track as "smooth. What you have to do now is just think about driving and going faster." With Michael's positive results, he benefitted greatly from the new surface along with the help from his PREMA Powerteam engineer and mechanics.
On Tuesday, a total of seven drivers from four teams participated in the test. Michael and the PREMA Powerteam started out strong by earning P-1 with a time of 1:41.445. "My engineer Fabio Zilio had the car perfect from the very beginning so I could concentrate on going fast and not making mistakes, and I was able to get the most out of a new set of tires," said Michael. "Toward the end of the day we made some adjustments and I was then able to go out and push for a fast lap."
Wednesday's collective test session consisted of five teams and 11 drivers in the Formula 3 Italia category, which increased the level of competition. Again, Michael's PREMA Powerteam Dallara was quick in the morning session and Michael started recording much faster lap times compared to Tuesday. A new track record for Formula 3 Italia took place on the second to last lap during the last test session late Wednesday afternoon when Michael clocked 1:38.989.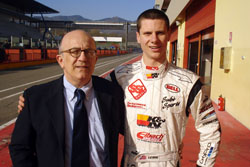 "The first time I visited Mugello was back when I was still in karting and I wanted to just take a look at this beautiful track," said Michael. "My goal at that time was to someday be able to race here. It means a lot to me to not only be able to test at Mugello and eventually be able to race here later this summer, but when I learned that at the end of the day my PREMA Powerteam Dallara was P-1, that was very exciting news."
"We are still at the beginning of our relationship with Michael Lewis," added René Rosin, team manager of the PREMA Powerteam. "We are working together to build confidence and build up a good package. Michael's dedication is extremely positive and together with the team's technical staff they are working day by day to increase confidence and performance. The Mugello test results were just a first step in this long and difficult season. We have to enjoy every moment of this season but also continue working in this way toward progress. Finally, Michael is adapting very fast to all the circuits raced so far, so I am extremely positive about the future."
Michael and the PREMA Powerteam will complete more collective test sessions scheduled at Misano, Spa and Monza before the opening round of the 2011 Formula 3 Italia Championship at the Franciacorta Circuit on May 15.
Michael's current sponsor lineup for 2011 includes Eibach Springs, K&N Engineering, SKF, GoPro, Klotz Synthetic Lubricants, Cometic Gasket, Bell Helmets and Subè Sports.