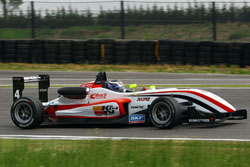 Laguna Beach, California (April 28, 2011) — American Michael Lewis continues a successful run during recent preseason tests. Driving for the PREMA Powerteam in preparation for the upcoming Formula 3 Italia season, Michael participated in team Collective Tests at the Monza and Franciacorta circuits where he achieved excellent results.
On Thursday, April 21, Michael and his two PREMA Powerteam teammates Raffaele Marciello and Andrea Roda joined nine other drivers in a one-day Collective Test session at Monza. The weather was perfect and all the major players for the 2011 Formula 3 Italia Championship were in attendance.
"I was very much looking forward to the Monza pre-season test as I really enjoy this beautiful circuit and being able to work with my PREMA engineer Fabio Zilio to get the car set up correctly to take advantage of the long straights," stated Michael Lewis. The full-day test session went well for Michael as he was consistently on top of the charts. At the end of the day at Monza, Michael was ranked third overall with a time of 1:47:328 behind the two Team Gihinzani drivers.
The next stop on the preseason test schedule was the "official" Italian Autosport Commission Italian Formula 3 Collective Test session at Franciacorta Circuit, which is the site of the opening round of the Formula 3 Championship May 14–15.
"Our team has been to Franciacorta already for an early preseason test and I really enjoyed learning this circuit," said Michael. "I looked forward to the level of competition that would be at this test because all the teams and drivers are very serious about their final preparations for the upcoming first race of the season."
Fifteen drivers took to the Franciacorta Circuit on a bright and sunny day, on Tuesday, April 26, as the competition for the top spots on the time sheets was furious. Michael Lewis drove the PREMA car, which now displays the 2011 sponsor livery, to the second fastest lap of the morning session with an excellent time of 1:05:128, just one tenth slower than veteran Team Ghinzani driver Edoardo Liberati.
After a quick lunch break the teams went back on the track and again the level of competition for the top spot on the time charts was competitive with multiple drivers leading the pace. At the end of the day Michael recorded the third fastest lap of the afternoon session with a time of 1:05:473.
Michael has one more pre-season Collective Test session at the famous Spa-Francorchamps track in Belgium on May 4, before the Formula 3 Italia season kicks off the following week.
Michael's current sponsor lineup for 2011 includes Eibach Springs, K&N Engineering, SKF, GoPro, Klotz Synthetic Lubricants, Cometic Gasket, Bell Helmets, Subè Sports and Calico Coatings.
Monza Formula 3 Italia Collective Test (4/21/11)
1. Facundo Regalia, Team Ghinzani, 1:46:693
2. Edward Freed, Team Ghinzani, 1:47:109
3. Michael Lewis, PREMA Powerteam, 1:47:328
4. Kevin Giovesi, Lucidi Motors, 1:47:430
Franciacorta F3 Italia Collective Test, Morning Results (4/26/11)
1. Eduardo Liberati, Team Ghinzani, 1:05:003
2. Michael Lewis, PREMA Powerteam, 1:05:128
3. Daniel Mancinelli, RP, 1:05:175
4. Raffaele Marciello, PREMA Powerteam, 1:05:274
Franciacorta F3 Italia Collective Test, Afternoon Results (4/26/11)
1. Victor Guerin, Lucidi, 1:05:081
2. Raffaele Marciello, PREMA Powerteam, 1:05:281
3. Michael Lewis, PREMA Powerteam, 1:05:473
4. Kevin Giovesi, Lucidi, 1:05:616