Laguna Beach, California (April 18, 2011) — American Michael Lewis continues to clock in at the top of the time charts, most recently during a two-day Formula 3 Italia team collective test session held last week at Italy's Misano Circuit.
Although Michael had never visited Misano previously, the PREMA Powerteam prepared flawless race cars for him and his teammates Raffaele Marciello and Andrea Roda.
On Tuesday, April 12, Michael claimed the fourth fastest time of the day, just behind his PREMA teammate Raffaele Marciello. "This was my first time at Misano so I spent the earlier part of the day getting used to the track," explained Michael. "Then my engineer Fabio Zilio and I started working on the car and we made vast improvements, which helped me build speed. I like this circuit and I was eager to return for the second day of testing to concentrate further on getting both me and the car dialed in."
On Wednesday, April 13, the weather conditions were perfect to produce fast times as 10 drivers competed for the coveted P1 position by the end of the day. Michael again climbed to the top of the speed charts and on his last lap of the day he recorded the fastest time of the two-day Formula 3 Italia Misano collective test at 1:30.42.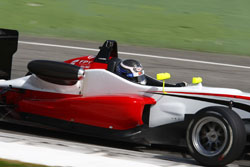 Regarding Michael's first visit to Misano, Angelo Rosin, PREMA Powerteam Team Principal, said, "After his first day of learning, Michael improved on the second day by demonstrating once again his good capabilities and potential. Test by test Michael is improving his driving by adapting to the high demand F3 car. Now we just need to do the fine-tuning before the season starts at Franciacorta."
The next collective test session for Michael and the PREMA Powerteam will take place at the famous Monza Circuit on April 22, followed by testing at Spa for the final test prior to the opening round of the Formula 3 Italia season on May 15 at Franciacorta.
Michael's current sponsor lineup for 2011 includes Eibach Springs, K&N Engineering, SKF, GoPro, Klotz Synthetic Lubricants, Cometic Gasket, Bell Helmets, Subè Sports and Calico Coatings.
Misano Formula 3 Italia Collective Test Session Results
1. Michael Lewis – Prema – 1:30.42
2. Raffaele Marciello – Prema – 1:30.44
3. Kevin Giovesi – Lucidi – 1:30.94
4. Simone Iaquinta – RC – 1:31.00
5. Andrea Roda – Prema – 1:31.01
6. Eddie Cheever – Lucidi – 1:31.10
7. Victor Guerin – Lucidi – 1:31.18
8. Sergio Campana – BVM Target – 1:31.18
9. Brandon Maisano – BVM Target – 1:31.47
10. Maxime Jousse – BVM Target – 1:31.50
(Results courtesy of Italiaracing.net)