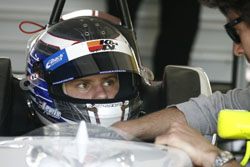 Laguna Beach, California (April 6, 2011) — Already setting the fastest time at the last two Formula 3 Italia collective test sessions, Michael Lewis and the PREMA Powerteam visited Vallelunga in Italy, on Monday, April 4, for another collective test session with plans to repeat.
Michael again topped the speed charts with a fastest lap of 1:30.266, but he wasn't the only driver in position one as Victor Guerin of the Lucidi Motors team also clocked the exact same time. A total of 10 drivers and four teams competed in the preseason collective test.
"It was a very successful test at Vallelunga for me and my PREMA teammates Raffaele Marciello and Andrea Roda," said Michael. "We worked as a team throughout the day and the car was excellent. I just made a slight mistake on my final lap so I was not able to obtain full potential from the car and would have been in sole possession of P1."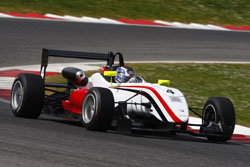 "Very good work in the last tests from Michael Lewis who constantly was at top of the results," observed Angelo Rosin, PREMA Powerteam team principal. "His approach is very professional and he is working well with the entire team. We have to continue working hard like we are doing and wait for the Franciacorta race debut. We have to remember that Michael is still a rookie so he will have to continue in his learning curve."
Michael and the PREMA Powerteam will complete more preseason testing with the next collective test scheduled to visit Misano before the first race of the 2011 Formula 3 Italia season on May 15, 2011 at Franciacorta.
Vallelunga Formula 3 Italia Test Results
1) Michael Lewis – Prema Powerteam – 1:30.266
2) Victor Guerin – Lucidi Motors – 1:30.266 


3) Raffaele Marciello – Prema Powerteam – 1:30.341 

4) Eddie Cheever – Lucidi Motors – 1:30.484 

5) Andrea Roda – Prema Powerteam – 1:30.742 

6) Sergio Campana – BVM Target – 1:30.846 

7) Brandon Maisano – BVM Target – 1:30.967 

8) Jesse Krohn – RP Motorsport – 1:31.231 

9) Daniel Mancinelli – RP Motorsport – 1:31.374 

10) Maxime Jousse – BVM Target – 1:32.063
Results courtesy of www.stopandgo.tv
Michael's current sponsor lineup for 2011 includes Eibach Springs, K&N Engineering, SKF, GoPro, Klotz Synthetic Lubricants, Cometic Gasket, Bell Helmets, Subè Sports and Calico Coatings.