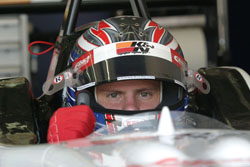 Laguna Beach, California (August 5, 2011) — American Michael Lewis will start in pole position for Round 7 of the Formula 3 Italia Championship at Spa-Francorchamps on Saturday, August 6.
Michael ran up front during practice, which carried over into qualifying. He qualified second fastest for Round 7, but Kevin Giovesi, who set the fastest time, was penalized for "not respecting track limits" and will start in 10th, therefore moving Michael into the P-1 starting spot on the grid.
"We came to Spa with much enthusiasm and had a plan of attack to do well this weekend," said Michael. "Our team worked diligently and earning pole represents that hard work from the entire Prema Powerteam. It's important that our sponsors share in this moment with us, especially our primary sponsors Eibach and K&N."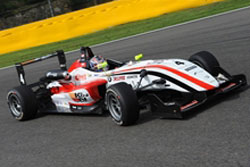 This weekend will be the first visit to the track in Belgium for the Italian Formula 3 Championship, but Michael competed last season at Spa, qualifying 3rd in a Formula BMW event.
Round 7 of the Formula 3 Italia Championship will take place on Saturday afternoon while Round 8 will occur on Sunday morning. The top-eight starting positions for Round 8 are determined by inverting the top-eight qualifiers for the previous race, which means that as pole-sitter for Round 7, Michael will start in eighth place for Round 8.
Michael Lewis currently leads in the Formula 3 Italia rookie points championship, and stands in third place for the overall series' points standings.
Michael's sponsor lineup for 2011 includes Eibach Springs, K&N Engineering, SKF, GoPro, Klotz Synthetic Lubricants, Cometic Gasket, Bell Helmets, Subè Sports and Calico Coatings.
Qualifying Results for Round 7 of Formula 3 Italia Championship at Spa
1. Michael Lewis, PREMA Powerteam, 2:15.548
2. Raffaele Marciello, PREMA Powerteam, 2:15.752
3. Maxime Jousse, BVM, 2:15.835
4. Facu Regalia, Ghinzani Arco Motorsport, 2:15.901
5. Victor Guerin, Lucidi Motor, 2:15.980
6. Edoardo Liberati, Ghinzani Arco Motorsport, 2:16:183
7. Sergio Campana, BVM, 2:16.295
8. Brandon Maisano, ARM Competition, 2:16.428
9. Andrea Roda, PREMA Powerteam, 2:16.454
10. Kevin Giovesi, Lucidi Motor, 2:16.476
11. Eddie Cheever Jr., Lucidi Motor, 2:16.628
12. Daniel Mancinelli, RP Motorsport, 2:17.055
13. David Fumanelli, RP Motorsport, 2:18.495
14. Federico Vecchi, Island Motorsport, 2:19.605