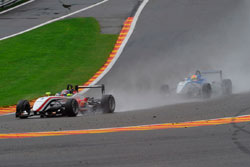 Laguna Beach, California (August 8, 2011) The Spa-Francorchamps Circuit in Belgium is one of American racer Michael Lewis's favorite tracks, and he conquered the track with his Round 7 win of the Formula 3 Italia Championship on Saturday, August 6.
Michael arrived at the 7-km (4.35-mile) race track with very high expectations. In two previous team collective tests, Michael was among the group of drivers recording excellent lap times at the scenic yet fast circuit. Michael arrived at Spa third overall in the 2011 F-3 Italia Championship and leading in the series' Rookie Championship.
Qualifying
After recording excellent lap times in the two free practice sessions on Friday morning, August 5, and placing P-2 in both practice sessions, Michael and the PREMA Powerteam were optimistic regarding the afternoon's all-important 30-minute qualifying session. The PREMA team worked hard to develop a package for Spa that would give Michael every opportunity to qualify well. About halfway through the qualifying session, Michael recorded a strong lap time of 2:15.548 that held for second place on the time charts. However, after the completion of the session, the steward applied a penalty to driver Kevin Giovesi for "cutting a chicane," which then moved Michael to P-1 and earning his first pole position award of the F-3 Italia season.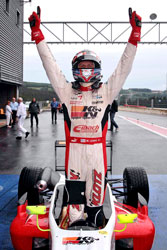 "My K&N Eibach sponsored PREMA Dallara car was fast in the previous tests and perfect Friday morning in the two free practice sessions," said Michael Lewis. "My engineer Fabio Zilio worked his magic and gave me a car to qualify that was absolutely perfect. It felt good, very good to earn my first pole position, especially at such a famous circuit as Spa-Francorchamps, and which is also one of my favorite tracks to race at. Qualifying is so important in this series and I knew that starting up front on the grid at Spa would give me an excellent opportunity for the result we hoped for and expected during Round 7 on Saturday afternoon."
Saturday Race 1 (Round 7)
The weather at the lush Spa-Francorchamps Circuit was perfect with dry, sunny conditions during practice and qualifying on Friday, however, on Saturday prior to the green flag waving for Round 7 of the Formula 3 Italia Championship, the rains, which often visit the Belgium track, arrived just prior to the 4:00 p.m. start of the race. Under a heavy downpour, Michael Lewis got a great launch at the start to build a 1.8-second gap on French driver Maxime Jousse in the early stages of the race. Michael held this gap up to about lap six then Maxime began to slowly diminish the gap to less than three tenths of a second with two laps to go. The two cars ran nose to tail for the last two laps and then American Michael Lewis prevailed, crossing the finish line first to record his initial Formula3 Italia race win.
Michael led every lap and recorded the second fastest lap of the race with 2:37.418 right behind his PREMA Powertam teammate Raffaele Marciello's lap of 2:37.399.
"Winning at Spa was a dream come true and being able to give my PREMA team the reward for all their hard work makes this first win for me extra special," exclaimed Michael. "My engineer Fabio Zilio and mechanic Marco Sbabo worked so hard all season long and they continued to remain focused for the preparation of this Spa race weekend. To be able to win the race in the rain made it all that more special for everyone. I felt the pressure all race long coming from Maxime, so I just focused on keeping my pace and concentrating on hitting my marks. Then when I saw the checkered flag I began to finally relax and take it all in."
Sunday Race 2 (Round 8)
For Sunday's second race of the event weekend, the weather cleared for a 10:00 a.m. race start. Because the top-eight qualifying order from the weekend's first race are inverted, Michael started Round 8 in eighth place. The PREMA Powerteam possessed a high degree of confidence for a good result for Michael in Race 2 because of his strong performance all weekend in the free practice, qualifying, and his win in Saturday's Round 7.
After the starting lights went out, 14 Formula 3 Italia cars headed for the Spa's turn one. As Michael entered the corner with a conservative approach he was suddenly hit from behind and then spun off the course as the rest of the field went by. Fortunately, Michael was able to quickly start the car and join the race at the back of the back, but this is where he needed to prove his worth.
Michael's PREMA car was fast lap after lap, and Michael set the fastest lap of the race with a 2:17.110 as a result. Michael's resilience and determination showed when at the wave of the checkered flag after 12 grueling laps, Michael recorded a sixth-place finish working up from dead last.
"I so much wanted a good finish in Race 2 to show my PREMA colleagues that we could perform well on the dry surface and to take advantage of the great set-up provided by my engineer Fabio Zilio," said Michael. "I took the conservative approach to the start because I did not want to put myself in harm's way and then from out of nowhere I was spinning. Fortunately, I was able to get restarted quickly and began the chase to get as many positions back as I could. Ending up finishing sixth was a bit of a disappointment but overall we had a fantastic weekend here at Spa and I am excited to continue the work at our next race coming up at Adria."
"As we thought before this round, Spa-Francorchamps showed the true strengths of our team in this Italian F.3 Championship," said Angelo Rosin, PREMA Powerteam Team Principal. "Our drivers proved to be among the best in the game in both dry and wet weather conditions. Without the contact suffered at the start of Race 2, Lewis would have held on to the championship lead."
As a result of Michael's win on Saturday at Spa and his charge from the back to finish sixth in Race 2, Michael is now ranked second in the overall F-3 Italia Championship and ranked first in the Rookie Championship. Michael's next race in the F-3 Italia Championship will be Rounds 9 and 10 at the Adria Circuit on September 3 and 4. During his time off between rounds, he will return to Southern California to race a Late Model for High Point Racing at Toyota Speedway at Irwindale on Saturday, August 20.
Michael's sponsor lineup for 2011 includes Eibach Springs, K&N Engineering, SKF, GoPro, Klotz Synthetic Lubricants, Cometic Gasket, Bell Helmets, Subè Sports and Calico Coatings.
Round 7 Results
1. Michael Lewis, PREMA Powerteam
2. Maxime Jousse, BVM-Target
3. Raffaele Marciello, PREMA Powerteam
4. Sergio Campana, BVM-Target
5. Kevin Giovesi, Lucidi Motors
6. Facu Regalia, Team Ghinzani
7. Brandon Maisano, BVM-Target
8. Eddie Cheever Jr., Lucidi Motors
9. Victor Guerin, Lucidi Motors
10. Davide Fumanelli, RP Motorsport
Round 8 Results
1. Sergio Campana, BVM-Target
2. Maxime Jousse BVM-Target
3. Brandon Maisano BVM-Target
4. Raffaele Marciello, PREMA Powerteam
5. Victor Guerin, Lucidi Motors
6. Michael Lewis, PREMA Powerteam
7. Facu Regalia, Team Ghinzani
8. Eddie Cheever Jr., Lucidi Motors
9. Kevin Giovesi, Lucidi Motors
10. Edoardo Liberati, Team Ghinzani