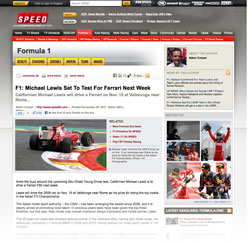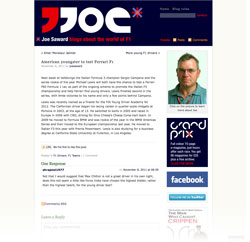 Laguna Beach, California (November 8, 2011) — The buzz in the motorsports industry is that an American has earned a test drive in a Ferrari Formula 1 car, and as a result, Californian Michael Lewis is receiving quite a bit of publicity for this rare and highly coveted opportunity.
By clinching the rookie championship in the 2011 Formula 3 Italia Series season, Michael, along with series champion Sergio Campana, were awarded the opportunity to test drive one of the most technologically advanced vehicles anywhere on earth. The test will take place on Tuesday, November 15, at the Ferrari-owned Vallelunga Circuit, in Italy.
To read about what Speed.com contributor Adam Cooper had to say about the test, please click here. Adam Cooper's article also appeared at Autoweek.com, which can be viewed here, and on the BBC's website, which can be viewed here.
Also, Joe Saward, who blogs about all things Formula 1, wrote about Michael, which can be viewed here.
Stopandgo.tv profiles the upcoming test on its website, which can be found here.
Peter Windsor mentioned Michael Lewis on Twitter. You can follow Peter Windsor @PeterDWindsor on Twitter, and Michael Lewis can be followed @michaellewis949.
Please be sure to watch Wind Tunnel on Speed Channel, this Sunday, November 13, at 9 p.m. EST/6 p.m. PST for Michael's telephone interview with Dave Despain. Please verify local listings for time.
Michael wants to thank his sponsors who helped make this possible with their support throughout the 2011 race season: Eibach Springs, K&N Engineering, SKF, GoPro, Klotz Synthetic Lubricants, Cometic Gasket, Bell Helmets, Braille Battery, Subè Sports and Calico Coatings.